Antrel Rolle believes the Giants can rebound and win out in these last two weeks against the Jets and Cowboys.
But he says Giants players, including those who are nursing injuries that are not significant, all have to start fighting -- and show that fight in practice.
"Of course we have it," Rolle said when asked if this team has the heart to rebound. "It has been proven that we have it. Honestly, I don't know why we don't go out and just play [with] it every game. It starts in practice man. This s--- starts in practice."
"And you know what? We need to have everybody on the field," Rolle said. "If you are injured, then so be it, you are injured, we understand that. But nicks and bruises, everyone needs to be on the field man. Because we are not getting better like this."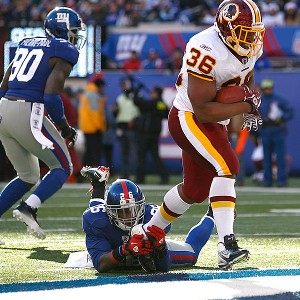 Jeff Zelevansky/Getty Images
Antrel Rolle's Giants will try to hold on to a playoff spot over the next two weeks.Rolle clarified by saying that he was not "calling anyone out." Defensive captain Justin Tuck (toe) and running back Ahmad Bradshaw (foot) did not practice on Wednesday and Thursday due to injuries before returning to a limited practice on Friday. Safety Kenny Phillips (knee) was limited in practice all week.
"What I am saying is this: if you are going to play Sunday, whoever it is -- granted some injuries you can't fight through, I understand that -- but little nicks and bruises, if you can push through it, push through it because the team needs you," Rolle said.
"I am not pointing fingers, I don't even know who practices half the time," he said. "It is not anything that happened today. I am just speaking in general. For example, Justin Tuck didn't practice throughout the week but I think he had a pretty positive game. It's hard for me to tell what defensive linemen do but I think he went out there and fought each and every play and was very productive."
Tuck has battled through neck, groin, ankle and toe injuries this season. Bradshaw is playing with a fracture in his foot.
"The one thing I understand is this, no one knows your body better than you do," Tuck said. "I would hope and I do believe that everyone on this football team, when they are able to go out and help their football team play the game, they do that. When I was young I used to look at some of the older guys and they missed practice and I gave them a look like 'eh, he probably could be out here.' Now that I have been through that and done that, I always tell guys it is easy to be tough when you are doing it with somebody else's body."
"Certain guys' pain threshold is a lot stronger than others," Tuck added. "I trust and believe that our 53 will go out there and try to do whatever they can to help us win."
Tuck said he plans on being on the field for the critical game against the Jets on Saturday.
"I felt OK but I still got some things lingering," Tuck said. "I will be on the field barring anything new [injury-wise]."