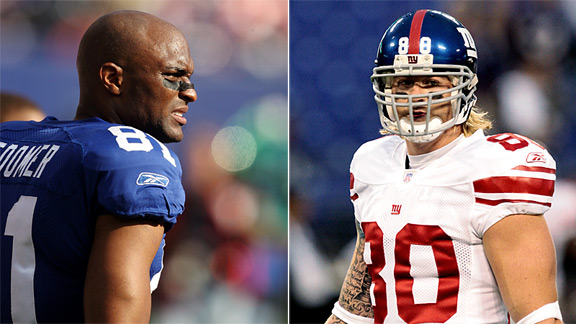 Getty Images
Jeremy Shockey wants to return to the Giants. Does the team want him back? Amani Toomer took to Twitter to rip his former teammate.The Giants have added tight end Martellus Bennett but also have an old tight end who reportedly wants to return.
According to the New York Daily News, Jeremy Shockey has let the Giants know he wants to return. Of course, there appears to be too much history and baggage here as a source confirmed the Giants don't seem to be interested in a reunion. Former teammate Amani Toomer had some strong words about this as well.
Remember, Shockey reportedly once screamed at GM Jerry Reese and forced his way out of New York. He's 31 and had a career-low 37 catches for 455 yards and four touchdowns last season for the Panthers.
"No!!Shockey"I will never play4 you again!"he yelled at jerry Reese in 08. Let him keep his word. Bad teammate, worse person," Toomer tweeted on Thursday morning.
Shockey responded via his Twitter account with this tweet: "Amani Toomer on Jeremy Shockey: Bad teammate, Haha. Well he was the lazy one that broke my leg!!"
The tight end also tweeted, "@AmaniAToomer Go get a bucket of rocks and start throwing them at your glass house."
Toomer responded by tweeting, "Shockey,Thanks 4 proving my statement about being a bad person. Enough said.Have a nice day& good luck as a FA"
And on the idea that he wants to return, Shockey tweeted, "It's funny how the Ny media still try's to make money off me! Can anyone find a quote from me on me wanting to play for the GAINTS?"
The Giants could perhaps use another tight end even though Bennett is on board. But their eyes are on a Cowboys wide receiver. ESPN NFL insider Adam Schefter reports Cowboys free agent wide receiver Kevin Ogleetree is visiting the Giants today.
The Giants could use another wide receiver for depth considering that Mario Manningham will likely depart. Manningham is scheduled to visit the Niners today. Cornerback Aaron Ross is also visiting Cincinnati today.
Here's a constantly updated list of the Giants free agents and moves. Tell us what you think of Shockey wanting back below.