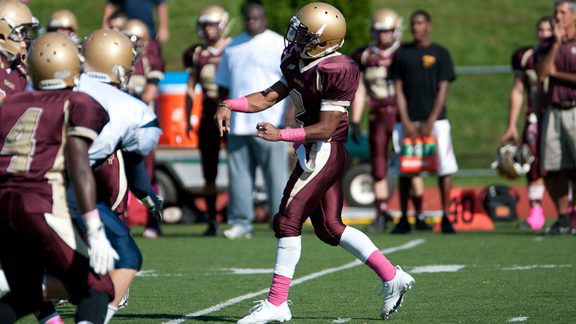 Jeff Skopin/ESPNNewYork
Recruited as a cornerback, Combs also filled in at quarterback for Iona Prep, completing 46 of 74 passes for 614 yards this season.
Justin Combs doesn't know who will be coaching him next season at UCLA.
Yet, that didn't prevent the Iona Prep senior cornerback from verbally committing to the Bruins on Tuesday, making good on a private commitment he had made more than a month ago.
"I was committed before and I just thought I'm still going to go with them because I have faith in the program," Combs said. "I have faith that everything is going to work out."
Combs, the son of rap mogul Sean "Diddy" Combs, chose the Bruins over Virginia, Iowa and Illinois despite UCLA firing head football coach Rick Neuheisel on Monday. Combs is a three-star recruit and the No. 8 prospect in New York for the Class of 2012, according to ESPNU. He will play in the Semper Fidelis All-American Bowl in January.
"It was like love at first sight when I visited there," Combs said. "I loved the whole tradition of UCLA and the school and the academics and just everything about it."
Not wanting to announce his commitment to the Bruins during the middle of his team's season, Combs kept his commitment private except to the members of the Bruins' coaching staff and some family members. He added that he also wanted to make the decision with his family.
On Monday, the school canned Neuheisel, who was in his fourth year at the school, and named offensive coordinator Mike Johnson the interim coach if the Bruins reach a bowl game. Combs called it "shocking," but reiterated that he has faith in the program. He finally let the news out on Tuesday, wanting it to be a surprise. Combs plans to study business and finance.
"It was kind of a relief and excitement at the same time," Combs said. "Now I can just relax and be excited and celebrate. I have to work 10 times harder for the next level. It's just an accomplishment and I have to keep on building. It's a big time in my life."
Combs said his father's advice was to go wherever he felt was the right place for him to go. He added that he has family in California.
"As a parent, today is one of the proudest moments of my life," Sean Combs said in a statement released by DKC Public Relations. "This is everything a father could want for his son, for him to excel at what he loves to do and is truly passionate about. Justin is a shining example of what hard work, determination and a strong mentality can achieve. I am honored to call him my son and am happy that he is fulfilling his dream."
The 5-9, 175-pound senior will be playing cornerback for UCLA, his primary position at Iona Prep. He had one interception for the Gaels this year but also played quarterback at times. He completed 46 of 74 passes on the year for 614 yards with four touchdowns and four interceptions, according to Maxpreps.com. Iona Prep went 6-4 this year.
He said that playing quarterback has helped him as a defensive back because he has learned tendencies and signals that quarterbacks use. He is able to think about what he would do in the situation and how he would attack a defense or which side of the field he would throw to.
Combs hopes to let his play do all the talking for him at UCLA -- no matter who the coach is.
"I'm going to let me actions speak for themselves," Combs said about what type of play he will bring to UCLA. "I'm just a hard worker who is dedicated."
Click here for a photo gallery of Justin Combs and the Iona Prep Gaels when they played Xaverian early in the season.