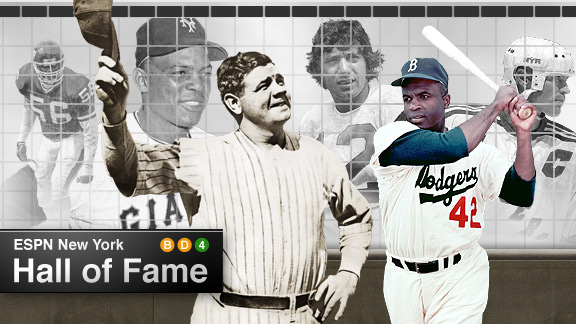 ESPN.com illustration
Vote: Pick the ESPN New York Hall of Fame class | Meet the candidates

In honor of ESPN New York's inaugural Hall of Fame ballot, here are my top five Devils:
1. Martin Brodeur: He's the best goaltender of all time not named Patrick Roy -- and some people say he's even better than Roy. The NHL's all-time regular-season leader in wins (625), shutouts (116) and games played by a goalie (1,132), Brodeur has guided the Devils to three Stanley Cup championships in his 18-year career, all with New Jersey. Just imagine if the Flames had picked Brodeur over Trevor Kidd in the 1990 NHL draft.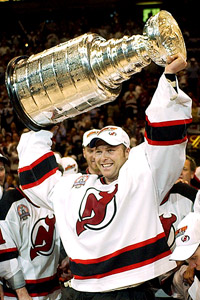 AP Photo/Charles Krupa
Why isn't Martin Brodeur a finalist for the ESPN New York Hall of Fame? Because he hasn't retired.
2. Scott Stevens: Slava Kozlov, Eric Lindros, Paul Kariya, Shane Willis and Ron Francis are all in agreement here: Stevens could flat-out hit -- and he became even more ferocious in the postseason. Stevens captained the Devils to three Stanley Cups and won the Conn Smythe Trophy as playoff MVP in 2000. A Hall of Famer, Stevens was the first Devil to have his number retired. The consummate leader.
3. Scott Niedermayer: We know, we know. He left on bad terms -- and you're indifferent as to whether or not his number will hang in the Prudential Center rafters. And yet, he's arguably the most gifted skater -- and without question the most talented offensive defenseman -- to play for the Devils. Niedermayer won three Stanley Cups in 13 seasons with New Jersey.
4. Patrik Elias: Fourteen years from now, we'll probably be talking about Ilya Kovalchuk as the most prolific forward in Devils history. But for the time being, the honor belongs to Elias. New Jersey's all-time leading scorer (816 points), Elias was involved in arguably the most indelible play in franchise history, sending a cross-ice pass through the slot that Jason Arnott buried for the Stanley Cup-clinching overtime game-winner in 2000. Elias, who also won the Cup in 2003, has played all 14 of his seasons in New Jersey.
5. Ken Daneyko: We couldn't round out the top-five list without including the man who was dubbed "Mr. Devil." Dano embodied everything the Devils stood for in nearly 20 years with the team: He was a stay-at-home defenseman known for his grit, determination and missing teeth. New Jersey's all-time leader in games played (1,283), Daneyko had his number retired in 2006. Also was a member of all three Stanley Cup teams.