Lined up across from Philadelphia's Zac Rinaldo for the game's opening faceoff, Rangers tough guy Brandon Prust suggested the two kick off the rivalry right.
"We should probably start this with a tilt, eh?" Prust asked Rinaldo.
Rinaldo obliged and four seconds after the puck was dropped in the first of a six-game season series between the Rangers and Flyers, fists were flying.
"We wanted to get the rivalry started," Prust said, "and we both agreed it was a good idea."
"He set the tone," John Tortorella said of Prust, who fought Wayne Simmonds later in the first.
The raucous sellout crowd at Madison Square Garden was rocking after the early scrap and received an entertaining prelude to the NHL's 2010 Bridgestone Winter Classic -- a 2-0 win for the Rangers.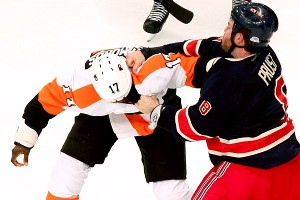 Debby Wong/US Presswire
Brandon Prust "set the tone" for this year's Blueshirts-Philly rivalry in Saturday's win, according to Rangers coach John Tortorella.The fight between Prust and Rinaldo set the table for a high-intensity, chippy match that proved the bad blood between the teams need not be manufactured.
HBO producers had to be salivating at the saltiness and snarl; the game featured two big brawls, a nasty cross-check to the head and a lot of yapping between the benches.
Said Brian Boyle: "I think they might have gotten some good soundbites."
The Rangers fed off the boisterous crowd and delivered a tenacious performance to edge their Atlantic Division rivals and record back-to-back wins.
Brad Richards tallied on the power play less than a minute into the second period, 23-year-old Carl Hagelin scored his first NHL goal two days after being called up and goaltender Henrik Lundqvist made 29 saves to record his 37th career shutout in the team's 12th win of the season.
But it was Prust's two fights in the first period that gave the game extra juice. After squaring off against Rinaldo -- whose preseason hit on Michael Sauer left the Rangers defenseman with a sprained right shoulder -- Prust knuckled up with Simmonds.
The two were sent to the box while verbally sparring at 9:20 of the first period and made arrangements to reconvene after the penalty expired.
"We just had a little chat," Prust said. "We made eye contact when we got out and it wasn't too hard."
The crowd was on its feet after seeing the two go toe-to-toe at center ice at 11:26, giving the game a playoff-like feel.
"The atmosphere was great," Richards said. "We were amped up to another level with the crowd and especially the way it started with [Prust]."
One day after airing a short teaser to the network's "24/7 Rangers/Flyers: Road to the NHL Winter Classic," fans got a first-hand glimpse of what the series will entail.
And if Saturday's game is any indication, it ought to be plenty entertaining.