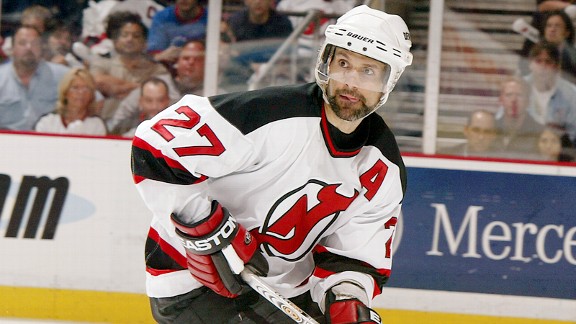 Al Bello/Getty Images
Scott Niedermayer won Stanley Cups with the Devils in 1995, 2000 and 2003.Looking back, the thing that strikes Devils forward Petr Sykora most about former teammate Scott Niedermayer was his skating.
"He could not skate a day all summer, then lace up the skates the first day of training camp and be the best one out there," Sykora recalled Thursday.
Niedermayer, whose No. 27 will be retired Friday in a pregame ceremony at Prudential Center, set the standard for what an elite puck-moving defenseman could do for a team.
"He could play 30, 32 minutes a night and just dominate every shift," Sykora said. "Half the game, the opponents couldn't do anything. There would be no odd-man rushes, no breakaways.
"He was phenomenal," Sykora continued. "When you have a guy like that, you always have a chance to win."
Niedermayer did plenty of that, too. The 38-year-old Alberta native won four Stanley Cups, two Olympic gold medals, a World Cup, World Championship, World Junior Championship and Memorial Cup.
During his illustrious 18-season NHL career, the former Norris Trophy winner amassed 172 goals and 568 assists before retiring in June 2010. He was a member of all three Stanley Cup teams for New Jersey and won a fourth in Anaheim with his brother, Rob. His performance during the Ducks' Cup run in 2007 also earned him the Conn Smythe Trophy as playoff MVP.
Niedermayer's winning legacy will be forever remembered when his jersey is raised to the rafters Friday. Niedermayer joins fellow defensemen Scott Stevens and Ken Daneyko as the only three players in Devils history to have their numbers retired.
The tribute to Niedermayer, who spent 12 seasons with the Devils (1992-2004), will be a special night for Niedermayer, his family and his legions of fans. Not to mention everyone within the Devils organization, whether they played with Niedermayer or not.
"These are good examples for our kids coming up," said goaltender Martin Brodeur, one of three current Devils -- along with Sykora and Patrik Elias -- who teamed with Niedermayer in New Jersey. "This is our history. This is an important day for our organization."
The ceremony will begin at 6:45 with pregame warm-ups slated to begin afterward at 7:30 for an 8:08 puck drop against the Pacific Division-leading Stars. The festivities will require a slight deviation from the team's normal schedule, but nothing that gives coach Pete DeBoer much concern.
Rather, DeBoer said he thinks "it can be nothing but positive" for his players to be on hand for the special event.
"For our guys, especially our young players who didn't get a chance to play with him or against him, to get to be part of a night like that, I think, is invaluable," DeBoer said. "Whatever setbacks it might lead to from the start of the game or energy level is far outweighed by the positives of our guys getting to see that."