NEWARK, N.J. -- Doctors and trainers worked their magic to get Ilya Kovalchuk back to the ice.
Then the 29-year-old sniper worked his magic on it.
Kovalchuk, who had to sit out Game 2 because of a back injury, capped off a brilliant one-goal, two-assist performance in his return in Game 3 on Thursday night, deftly feeding Alexei Ponikarovsky for the game-winning marker with 2:39 left in overtime, as the New Jersey Devils beat the Philadelphia Flyers, 4-3, at the Prudential Center.
New Jersey now leads Philadelphia in the best-of-seven Eastern Conference semifinals series, 2-1. Game 4 is Sunday night at The Rock.
"I think when you're around him every day, you realize what he's capable of," DeBoer said of Kovalchuk, who has recorded a team-high tying nine points (four goals, five assists) in nine games this postseason.
"He was very motivated to get back in and not disrupt the lineup and what the guys had accomplished in Game 2. I knew he was going to have a positive effect on the game."
Kovalchuk called watching his team's stunning 4-1 victory in Philadelphia from home with a couple friends and his wife on Tuesday night a nerve-wracking experience. The Devils trailed 1-0 heading into the third period despite taking 25 shots.
But after Kovalchuk put his daughter to bed, Adam Larsson knotted the score. His television stayed off the rest of the way. His wife gave him the good news once the final buzzer sounded.
"I think it was a little bit of good luck that I didn't see it on TV, but I saw all the highlights and the guys did an unbelievable job," Kovalchuk said.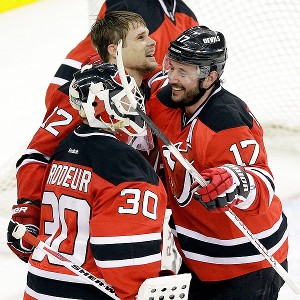 AP Photo/Julio Cortez
Ilya Kovalchuk (17) fed Alexi Ponikarovsky (12) for the game-winning goal.Kovalchuk led the Devils in scoring during the regular season and has averaged 40.6 goals per season during his 10-year NHL career. Yet when he felt ready to return to the lineup -- following a couple days of rest and a little treatment -- he didn't want to do too much.
He just wanted to fit in.
"I just wanted to be myself," he said. "I knew that I was gonna feel good because I skated this morning, and I didn't have any problems."
It didn't take long for Kovalchuk to make his impact felt. Just 20 seconds after picking up a secondary assist on Patrik Elias' tying goal in the first period, the Russian superstar took a cross-ice pass from Travis Zajac on a 3-on-2 odd-man rush and whipped a shot from between the hash marks that beat Ilya Bryzgalov glove-side.
"It was nice," Kovalchuk said. "When you miss a game, you want to produce right away."
It certainly doesn't hurt to produce late, too. And that's what makes Kovalchuk's stretch pass from blue line to blue line to Ponikarovsky for his walk-off winner even more special.
Kovalchuk saw Ponikarovsky coming off the bench on the Flyers making a late change, so he hit his teammate in stride. A 2-on-1 odd-man rush developed quickly.
Ponikarovsky's first shot was stopped, but he put home the rebound, sending the sellout crowd of 17,625 into a frenzy.
Four of the Devils' last five playoff games have gone to overtime. They've won three of them.
They can thank Kovalchuk -- as well as their stymieing penalty kill (2-for-2 O.T., 14-for-16 series) -- for this one.
"It's a world-class play," DeBoer said. "Not many guys have the poise to hold the puck there, recognize a line change on the other team and spring somebody. There's only a handful of guys that can make that play, and we're fortunate to have him on our team."
"With all the skill and talent he has, you never know what's going to happen with the puck," Andy Greene said. "He'll do things that'll make you shake your head."
In Game 1, it was all his miscues in the defensive zone that left everyone shaking their heads.
Something must've been wrong. It was.
But as it turns out, all Ilya Kovalchuk needed was a couple days off and a little treatment to make his magic on the ice once again.