New York Rangers assistant coach Mike Sullivan parted the throng of reporters surrounding Marc Staal's locker and gave him a quick fist bump for his efforts in the Rangers' stunning 3-2 overtime win against the Washington Capitals. It was a simple gesture to acknowledge the latest accomplishment in what is becoming a pretty tremendous comeback for the 25-year-old defenseman.
After missing the first half of the season with lingering concussion symptoms dating back to February 2011, Staal is inching ever closer to a return to form as one of the league's elite defensemen.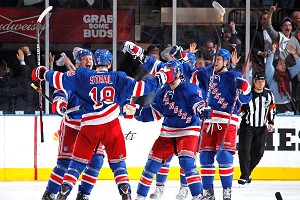 Scott Levy/NHLI/Getty Images
Marc Staal tallied the Rangers' game-winning power-play goal 1:35 into overtime.The alternate captain has been one of the team's steadiest and, at times, dominant performers this postseason, and he delivered a gold-star game Monday. Capping a shocking late-game rally led by Brad Richards' game-tying goal with 6.6 seconds in regulation, Staal tallied the game-winning power-play goal 1:35 into overtime to give the Rangers a 3-2 series lead.
Staal, who earned the team's MVP Broadway Hat, finished the game with a goal, assist and a plus-1 rating in 24:05 in ice time during the pivotal Game 5.
He also broke up a Capitals' 3-on-1 rush in the third period to keep the Rangers within striking distance.
"I'm certainly feeling better and better," Staal said of his progress since making his long-awaited season debut in the Winter Classic on Jan. 2. "As the year has gone on, I've felt better and better. Playoffs are a lot of fun and I'm having fun with it."
Staal's goal, which went off Brooks Laich's stick and beat a screened Braden Holtby, allowed the Rangers to re-assert control of a series that was threatening to slip away. Had the Rangers dropped the overtime decision to the Capitals, they'd have found themselves in a precarious position for the second time this postseason -- trailing 3-2 with the series headed back to an opponent's home ice for Game 6.
The overtime marker was also the Rangers' second power-play goal tallied in a span of 1:42, a drastic turnaround from the unit's feeble efforts throughout much of the game.
Eastern Conference Playoffs


Get all the news and commentary on the Rangers-Capitals matchup on ESPN.com's matchup page.
• Burnside: Series preview
• Predictions: Experts | You tell us!
• Playoffs schedule | Cross Checks blog
• Rangers blog | ESPN New York
"We kept talking about it, plays that would open it up for us. We just kept trying to come at them," Staal said. "It wasn't a set play or anything off the draw, just a good clean draw and guys went to the net and he couldn't see it."
With his second goal and third assist of the playoffs, Staal has already matched his output for his injury-shortened 46-game regular season. He is also nearing a return to the team-leading minutes he shouldered last season as part of the team's top defensive pairing.
"He's just getting better and better," goaltender Henrik Lundqvist said. "He gets the goal and made some big plays to break up opportunities in the third. He was all over the ice."
His contributions were something that may have gone overlooked at times last season. But now that the team knows what it was like to be without Staal, and what he has gone through to get himself back, the appreciation is magnified.
"No one understands that injury unless you go through it," said Richards, who battled a concussion of his own while playing in Dallas last season. "I've gone through one and I didn't miss half the season and jump into it, so the benefit of the doubt goes to him all the time and he's gotten nothing but better."
"He's enjoying this fresh start in the playoffs," Richards said. "He's playing so much better, and I'm sure he'll continue to get better."