With the Rangers' offense in dire need of a spark heading into Saturday's Game 7 against the Capitals, the team appears ready to give talented rookie Chris Kreider another shot.
After spending two games on the team's fourth line -- a demotion borne from his defensive miscues in Game 4 -- Kreider practiced Friday with center Derek Stepan and captain Ryan Callahan.
The move signaled what will likely mean more ice time for the recently signed college standout, who played only 6:57 and 6:06 in Games 5 and 6, respectively.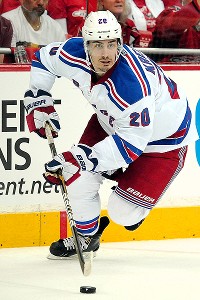 Patrick McDermott/Getty Images
Chris Kreider wants to regain the coaching staff's trust.
Kreider, whose defensive-zone giveaway led to Alexander Ovechkin's goal in last Saturday's 3-2 loss in Washington, said he understands why his role has been limited of late and what he needs to do to earn back the coaching staff's trust.
"Obviously, there were a couple blunders," Kreider said, before detailing what he needs to improve. "Just consistency, kind of a refocusing in the defensive end, showing that your game is detail-oriented in the defensive end."
Since Kreider signed with the team just before the playoffs began, coach John Tortorella has showered the quiet, unassuming prospect with praise for how he handled a tough situation. After a couple of tremendous games in which he dazzled with both speed and skill, Kreider-sanity subsided when his inexperience led to a few costly mistakes. He was benched accordingly.
Now, Tortorella seems keen to give him a second chance.
The coaching staff has provided Kreider with the basics of their defensive structure, but know now is not the time to muddle him with too much instruction.
"We've given him the foundation of it, but not overloaded him because we just don't want to turn him into a robot," Tortorella said "We're going to let him play."
Seeing his ice time and opportunity limited in the past pair of games, Kreider is eager to respond.
"I think it's hard not to be motivated regardless of situation you're in, whether you're playing big minutes or small minutes," he said.
Kreider will rejoin Stepan, who also earns a promotion after toiling on the third line, in Tortorella's attempt to re-establish the chemistry forged in the latter half of the quarterfinals.
Flanking the two youngsters will be Callahan, the catalyst for the Rangers' gritty, blue-collar style.
"They're very versatile. You can use them in any situation," Kreider said of his linemates. "Unbelievable all–around players, doesn't really matter who you play them with. They have chemistry with everybody."
What can he add to their line?
"Good players like them like to have the puck on their stick. Hopefully I can win them pucks and force turnovers so they can just play," Kreider said.
In just 11 NHL games -- he made his professional debut in Game 3 of the quarterfinals -- Kreider has hit some bumps along the way. But he has also shown some flashes of brilliance. The latter is what the Rangers hope they will see Saturday.
"I'm not too worried about Chris, that's for sure," Stepan said. "I think he's got a great head on him, he's a great player and he's done some great things for us. He's going to continue to do that for us."