Courtesy of Sam Levitan
Hall of Fame finalist and Jets great Curtis Martin would take Peyton Manning in a heartbeat.Former New York Jets star Curtis Martin, who hopes to own an NFL franchise one day, knows exactly what he'd do if he were the current owner of the Jets and Peyton Manning became a free agent.
He'd be all-in.
"That's a great opportunity," said the Hall of Fame finalist Saturday in an interview with ESPNNewYork.com. "I'm not saying anything against Mark Sanchez, but Peyton Manning … I have a lot of respect for the guy. I played against him for a number of years. I wouldn't care who was on my team -- if Peyton Manning was available, I would go after him."
Martin amended that, saying he'd pass on Manning if he had Tom Brady, Drew Brees or Aaron Rodgers as his quarterback. Aside from those three, he'd be willing to gamble on Manning, 36, who is recovering from his third neck surgery.
"I'm very bullish on taking that chance," said Martin, who retired after the 2006 season. "I don't care if he's 38, 36, whatever, I would be interested in taking that chance. At 35, 36, I'm definitely interested.
The 50 Greatest Jets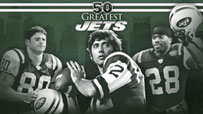 Drawn from more than five decades of history, ESPN New York presents its 50 Greatest Jets. Top 50

Rank 'Em"You're literally talking about one of the best quarterbacks to ever play the game," he continued. "Him having a year off, the type of competitor Peyton Manning is, I think he's going to come back and surprise everyone and be even stronger -- if he can come back."
Manning's future is a huge question. The Indianapolis Colts must decide by March 8 whether to pay a $28 million roster bonus, which appears remote given his health and the likelihood of the Colts using the No. 1 overall pick on Stanford quarterback Andrew Luck.
Because Manning is under contract, the Jets -- or any team -- can't comment on potential interest. Jets owner Woody Johnson, in a recent interview, didn't rule out the possibility of pursuing Manning. There are growing indications that the Jets, despite public support for Sanchez, are monitoring the situation and will explore it if he's released.
"Mark Sanchez is the future of the Jets," coach Rex Ryan said Friday during a visit to the Pro Bowl practices in Hawaii. "He's a great quarterback. ... We're going to be together a long time."
Of course, the Jets have been known to change their minds. Martin said he suspects that even "teams that have quarterbacks that are doing well would probably still be interested in Peyton Manning."
Martin, revered within the Jets' organization, also offered his opinion of Ryan, who is taking a lot of heat because of his ill-fated Super Bowl guarantee and inability to control a locker room torn by dissension. Martin said Ryan is the right coach for the Jets, bravado and all.
"The one thing I will say, maybe in the opposite direction of what the fans are thinking, I think Rex's personality, him talking stuff and being vocal about their chances, I just feel this is the year it didn't work," Martin said. "It worked the first two years, and it just didn't work this year. It's not going to work every year.
"Had it worked every year, he'd be the greatest coach in the world. This was an off year. I think, the type of person he is and the man I know him to be, I think he'll get things right."
Martin, the fourth-leading rusher in NFL history, is in his second year of Hall of Fame eligibility. He made the top 10 last year. The committee meets next Saturday in Indianapolis to select the next class.