The Jets have 11 unrestricted free agents, but there's really only one they can't afford to lose -- nose tackle Sione Pouha.
Sources say both sides are trying to hammer out a long-term contract before the start of free agency next Tuesday, and there's no reason to think it won't get done. This isn't one of those sign-a-deal-or-we'll-tag-you kind of situations. The Jets have no plans to use the franchise tag on Pouha; the deadline is 4 p.m. Monday.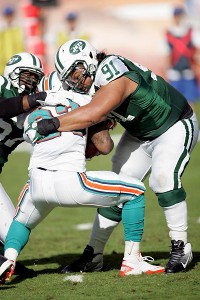 AP Photo/Paul Jasienski
Sione Pouha (91) anchors the Jets' defensive line.
A couple of factors make this an interesting negotiation. Pouha turned 33 last month and he plays arguably the most physically demanding position, so that has to be a concern for the Jets. But take a closer look and you will see that he's not a high-mileage player.
Pouha got a late start in the NFL because of a religious mission in college (he was a 26-year-old rookie in 2005), and he has been a full-time starter for only three seasons. In addition, his snap count is relatively low -- 472, 567 and 627 over the last three years, according to the web site Pro Football Focus. That's only 54 percent of the defensive plays, give or take.
Pouha primarily is a first- and second-down player, offering little in the way of pass rush, but he's one of the best run-stopping nose tackles in the game. You can't run a 3-4 defense if your nose tackle doesn't tie up two blockers, and Pouha does that very well. He's coming off his best year, with 55 tackles, one sack, one forced fumble, two fumble recoveries and four batted passes.
His stats don't jump off the page, but he doesn't play a "stats" position. He's vital to the defense, particularly in light of the slow development of second-year NT Kenrick Ellis. Ellis is as raw as raw can be, and there's no way he's ready to be a full-time player. That enhances Pouha's value.
Pouha and Paul Soliai (Dolphins), who played last season for the franchise-tag salary (more than $12 million), are regarded as the top two free agents at nose tackle. Antonio Garay (Chargers) also could be in the conversation. Clearly, there would be a market for Pouha, who also happens to be a positive force in the locker room -- and we all know the Jets need guys like that.
The current franchise number is expected to be about $7.6 million. It would cripple the Jets' cap situation to use that on Pouha, so it makes sense to reach a long-term agreement. Prediction: He signs a four-year, $20 million deal, with $11 million guaranteed.