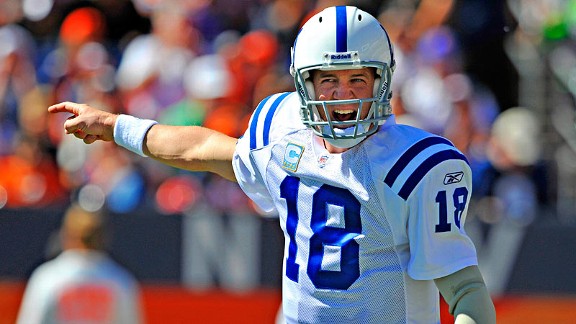 Ron Chenoy/US Presswire
The Jets' commitment to Mark Sanchez is about to be tested, with Peyton Manning on the verge of hitting the open market.
Manning will be released Wednesday by the Indianapolis Colts, ESPN reported Tuesday, meaning one of the greatest quarterbacks in history soon will be an unrestricted free agent. As ESPNNewYork.com reported last week, the Jets intend to explore the Manning situation, primarily to check on his surgically repaired neck and contract demands.
Publicly, the Jets have professed their faith in Sanchez, but they also haven't shut the door on Manning, fueling speculation about potential interest in the four-time league MVP.
Sources say the Jets' 2012 blueprint is built around Sanchez and, until recently, they hadn't even plotted a salary-cap contingency for Manning. It would take a dramatic organizational shift to abandon Sanchez, sources said, but the Jets have been known to make impulsive decisions. (See Brett Favre, 2008.)
Coach Rex Ryan rebuilt his coaching staff with Sanchez in mind, hiring a run-oriented offensive coordinator in Tony Sparano and retaining quarterbacks coach Matt Cavanaugh -- Sanchez's first and only position coach in the NFL. If they somehow landed Manning, they basically have to throw the playbook into the garbage and adapt to Manning's style.
They did that for Favre in 2008, coming off a 4-12 season under Eric Mangini. The current Jets aren't that desperate -- 8-8 after two straight trips to the AFC Championship Game -- and, despite Sanchez's struggles late last season, they believe he's an "ascending player," as Ryan called him recently. The Jets have invested $30 million in Sanchez over three years.
But Ryan also believes Manning is the best quarterback in the league, as he has said many times over the last three years, and he's not about to miss an opportunity to inquire about the former Super Bowl champion.
"It's really important that we always try to improve the team," GM Mike Tannenbaum said last week. "With that said, I expect Mark Sanchez to be our quarterback next year, but when we have opportunities to improve our team, that's what we're going to do."
Financially, it would be almost impossible to have Manning and Sanchez, who is counting $14.3 million on the salary cap. The Jets have only about $7 million in cap room, but they can create another $9 million by unloading Sanchez, who has two years left on his rookie contract.
None of Sanchez's 2012 salary is guaranteed. The unofficial deadline to make a QB decision is March 28, when Sanchez is due a $2.75 million roster bonus.
Manning, who sat out the 2011 season, has been working out and intends to play in 2012. He conducted throwing sessions last week at Duke, where he was observed by former Jets consultant Tom Moore, ESPN reported. He was Manning's longtime coordinator in Indianapolis before retiring and joining the Jets last season in an advisory role. Moore no longer works for the Jets, which allowed him to attend the workouts, but he probably could give them an unofficial scouting report on Manning's progress.
Because of health questions and age (he turns 36 later this month), Manning carries risk. But after its first non-playoff season in three years, the Ryan-Tannenbaum administration may feel pressure to win in 2012, perhaps giving them reason to make a play for Manning.
The Miami Dolphins, Arizona Cardinals, Washington Redskins and Seattle Seahawks also could be in the Manning sweepstakes.