For the first time as a Jet, Tim Tebow has tweeted.
At approximately 8 p.m., the Jets new backup quarterback broke his 18-day Twitter silence on his Twitter page, @TimTebow, with four tweets acknowledging his new team and you guessed it, his excitement to be a part of Gang Green.
Tebow's Wild Ride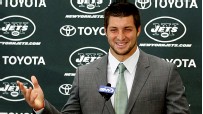 Tim Tebow took Denver on a magical trip in 2011. Can he do it again in the Big Apple? Photos

Latest

"I've already said it 44 times so here goes number 45: I'm really excited to be a Jet! Haha! All joking aside it's truly an honor to be a Jet and I'm anxiously looking forward to going to work with all of my new teammates and coaches," Tebow tweeted. "Fireman Ed and the rest of Jets nation, I'm gonna play my heart out for you. J-E-T-S JETS! JETS! JETS!"
The former Heisman Trophy winner also thanked his fans in Denver who helped create "Tebowmania," as well as his former teammates and coaches.
Tebow, who led the Broncos to the AFC West title last season as well as a win in the playoffs, was traded to the Jets on March 21 after the Broncos signed four-time MVP Peyton Manning. Tebow held his introductory press conference on Monday.
"Well, that was an interesting couple of weeks! Now that things have finally settled down a bit, I wanted to take a moment to thank all you great Denver fans for all of your support," Tebow tweeted. "The ride that we were able to enjoy together this past season is something that I will always cherish. I'd also like to thank all of my former coaches and teammates as it was an honor to play for and alongside each of you. I will always be grateful to the Broncos organization for giving me to the initial opportunity to fulfill my dream of being an NFL quarterback. GB."