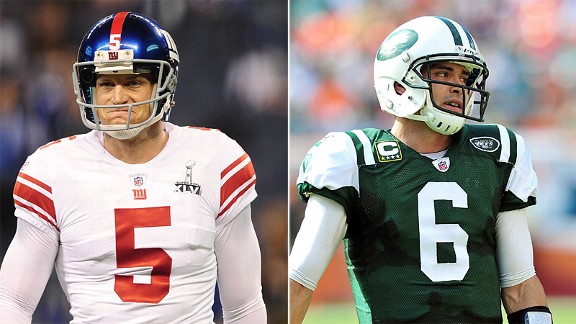 US Presswire
Steve Weatherford and Mark Sanchez.Mark Sanchez has received a lot of criticism this offseason, the latest coming from an unlikely source -- the punter.
Wait, make that the ex-punter.
New York Giant Steve Weatherford, whose 15 minutes of fame have lasted five months, questioned Sanchez's maturity this week during an NFL.com podcast.
"I like Mark -- I think he's a very talented quarterback -- but from my standpoint, I haven't seen a lot of maturation," said Weatherford, making the media rounds this week because the Giants received their Super Bowl rings. "When you're a quarterback and you come in, and you're expected to be the face of the franchise, and you're expected to lead the team.
"That's a lot to take on as a rookie. But as the years go on, I think you're expected to mature, skill-wise, and also mature as a leader, and to be honest with you, as much as I like the guy, I just haven't seen that."
Weatherford has been removed from the Jets for a year. He was Sanchez's teammate in 2009 and 2010, when they reached back-to-back AFC Championship Games, but the Jets decided not to re-sign Weatherford last offseason. He landed with the Giants and, lo and behold, he was a pivotal player in their championship run, landing a new contract.
Weatherford also was critical of Jets special teams coach Mike Westhoff at various points during the season.