CORTLAND, N.Y. -- The Jets practiced in a steady rain Saturday before 2,588 fans. Rex Ryan joked that it rained so hard that "animals were pairing up."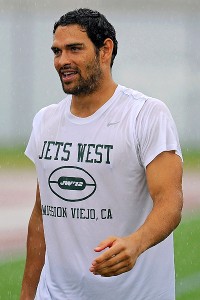 Rich Barnes/US Presswire
Mark SanchezIt made for a sloppy practice, including several dropped passes. WR Santonio Holmes dropped at least two balls; RB Shonn Greene and RB Joe McKnight had one apiece.
The encouraging sign was QB Mark Sanchez, who didn't seem bothered by the wet conditions. In 16 snaps with the starters, Sanchez completed six of eight passes, plus a sack. Afterward, Ryan offered unsolicited praise of Sanchez.
Meanwhile, Tim Tebow (3-for-8) struggled with his accuracy, prompting some loud fans in the crowd to heckle him. In fairness, he was victimized by a couple of drops. At times, he held the ball too long. Later, Ryan suggested that some of that hiccups could be attributed to his unfamiliarity with the new system. Then again, it's new for every player.
NO GO FOR JK: Slot receiver Jeremy Kerley, nagged by a hamstring injury since OTAs, didn't practice. He'll be sidelined about a week, according to Ryan, who dropped the hammer on the second-year receiver. Ryan, who normally doesn't criticize players publicly, said he's been "disappointed" with Kerley and that he needs to step it up.
HELLO, LaRON: S LaRon Landry, who spent the offseason rehabbing from an Achilles tendon injury from last season, made his Jets debut. He didn't participate at all in the offseason, so this was a true debut.
Landry worked with the second team, behind Eric Smith and Yeremiah Bell. He looked good in coverage, almost intercepting a Sanchez pass. Afterward, Ryan gushed about Landry's recovery speed. That's interesting because Landry always has been known as an in-the-box safety, not someone who makes plays on the ball. Pass coverage at the safety position will be a key on defense.
Unofficial stats from practice
Team drills (11-on-11)
Passing drills (7-on-7)
MAYHEM STRIKES: It was a big day for OLB Aaron Maybin, who recorded two "sacks." On one sack, he blitzed up the middle, a sneak attack. The Jets tried to move around Maybin toward the end of last season, hoping to prevent offenses from keying on him. Look for more of that this season.
SPECIAL K: After a quiet first day, TE Dustin Keller made a big impact, hooking up several times with Sanchez. The biggest play came on a deep seam, with Keller beating Smith in coverage. It'll be interesting to see how Keller is utilized in Tony Sparano's system, never known as tight end-friendly.
O-LINE UPDATE: Vlad Ducasse continued to rotate with Matt Slauson in the white-hot competition at left guard. Kidding --- but it is a legitimate competition ... Ryan gave a shout-out to LG Caleb Schlauderaff, who also is working on his center skills. The Jets don't have a true center to back up Nick Mangold ... Rookie G Robert T. Griffin returned after sitting out most of Friday's practice with what appeared to be cramps or a stiff back.
KICKING COMPETITION: Challenger Josh Brown rallied after a poor first day, making 4-for-4 on FG attempts -- from 34 to 44 yards. Incumbent Nick Folk, too, was perfect -- 4-for-4, from 30 to 40 yards.
THE PADS COME ON: Per the CBA, the Jets will be allowed to practice Sunday in full pads. The first two practices were required to be padless -- i.e. "shells."