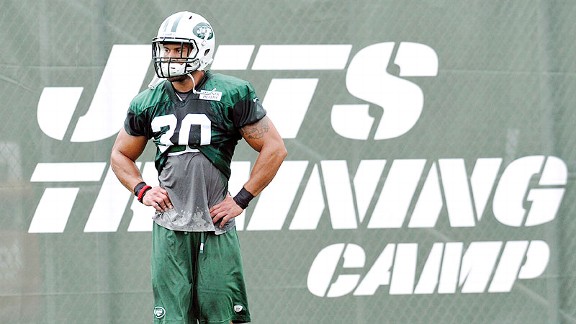 AP Photo/Bill Kostroun
LaRon Landry will be on a pitch count this summer at Jets camp.
CORTLAND, N.Y. -- LaRon Landry made his first appearance as a Jet on the practice field on Saturday, getting a few reps in the nickel package in Cortland. The safety was placed on the PUP list on July 23 but came off as the Jets reported to camp Thursday.
"Physically, I feel 100 (percent)," Landry said. "I'm just pushing it, each day is going to be an elevated effort, I'm progressing and I'm not going into the negative. So it's positive."
Landry has struggled with an Achilles' injury sustained in 2011 when he was with the Redskins. He had a stem cell treatment in the offseason before signing with the Jets in March for a 1-year, $4 million contract. After practice, said he is still trying to get up to speed with the Jets' playbook.
"It was pretty shaky mentally, but physically (I) feel real good."
Ryan said that Landry would not be practicing every day, but would be on a limited pitch count to lower the risk that he re-injures himself, considering Landry is too competitive to let up. Ryan said he was impressed by how quickly Landry could cover.
"You forget the guy runs a 4.3 -- the makeup speed is phenomenal," Ryan said.
Landry said he's been getting some help from safeties like Eric Smith in getting up to speed with the defense. As for the original decision to place Landry on the PUP list, Landry played it down.
"I wasn't concerned, that was the coaching and training's decision," Landry said. "I knew I was going to be out there so I wasn't concerned at all. I knew my health was going to be there."