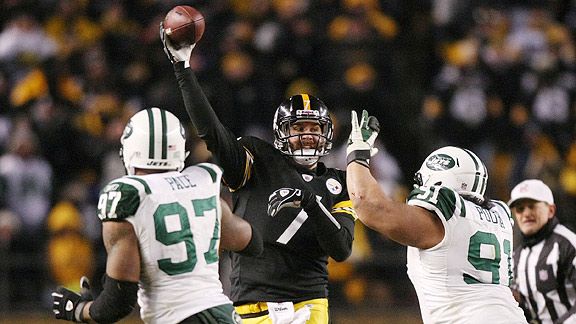 Jason Bridge/US Presswire
Ben Roethlisberger was able to complete his final pass, despite pressure from Sione Pouha.It was a gutsy call by Pittsburgh Steelers coach Mike Tomlin -- gutsy because it worked. If it had failed, they'd be calling it a stupid decision in the Steel City.
With two minutes to play, the Steelers clinging to a five-point lead, Tomlin called a third-and-6 pass even though the New York Jets were out of timeouts. The Jets came oh-so-close to breaking it up, but there were breakdowns on the play.
First, the Jets' edge rushers let QB Ben Roethlisberger out of the pocket. That could be because they were playing for a run. Rex Ryan admitted that he was "shocked" the Steelers didn't run the ball in that situation. You let Big Ben out of the pocket, and he will make you pay more often than not.
Nose tackle Sione Pouha pressured Roethlisberger and got in his face.
"I hit him right when he threw the ball," Pouha said. "I tried to affect the throw, but obviously Ben is Ben. Right when I hit him, I was hoping to deter the throw somehow, but he's been in that situation so many times that it's second nature to him."
It was a brilliant throw on the run. The Jets dropped into a Cover-3 zone. Once Big Ben escape the pocket, the Jets applied their "plaster" coverage rules -- play man-to-man against the closest receiver in your zone. For linebacker David Harris, that meant wide receiver Antonio Brown. But that's a tough cover for a 250-pound linebacker.
"He was in my zone, so I pretty much had to match him," Harris explained. "I tried to stay with him the best I could, but he's a good athlete and he made a heck of a play. There was too much separation."
Brown made a sliding catch for 14 yards, giving the Steelers the first down they needed to run out the clock.