FORT WORTH, Texas -- The New York Jets' decision to use their franchise tag on LB David Harris, as reported Sunday morning by ESPN's Adam Schefter, comes as no surprise. In his end-of-season news conference, GM Mike Tannenbaum suggested he was leaning in that direction.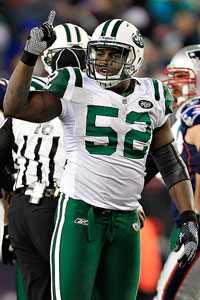 AP Photo/Charles Krupa
David Harris is the only "Core Four" player awaiting a new deal.
What does it mean?
• Harris will be a rich man. The franchise number last year for linebackers was $9.6 million. (This is assuming there will be a tag; there's still some uncertainty because of the labor situation.)
• Obviously, Harris would prefer a long-term deal. He's seeking more than $8 million per year (Bart Scott's salary), and he deserves it. He's better, and younger, than Scott. The estimated franchise number is fairly close to being in line with Harris' value.
• It shows how much Rex Ryan values Harris. But we knew that already. Remember in the 2009 preseason, when the Jets could've had WR Brandon Marshall from the Denver Broncos? The Broncos wanted Harris in return and the Jets told them that was a deal-breaker. Even though Harris' numbers dropped a bit in 2010, he's important to Ryan because the defensive signal caller, because he's only 27 and because defense is everything for Ryan.
• Clearly, the Jets value Harris more than WR Santonio Holmes, WR Braylon Edwards and CB Antonio Cromartie, all of whom have expiring contracts. If the Jets can't sign those players before the start of free agency (whenever that is), the players will hit the open market. Tannenbaum has said he'd sign to keep all three, but that will be difficult. League insiders say the Jets' No. 1 priority is Holmes; they appear willing to let the market dictate the value for Edwards and Cromartie.
• You could make the argument that Harris isn't a true franchise player, but remember this: He's the safest of the four. Unlike Holmes, Edwards and Cromartie, he has no off-the-field issues. He's also a homegrown Jet, and that matters to the organization. He's the last of the "Core Four." Darrelle Revis, D'Brickashaw Ferguson and Nick Mangold all received new deals last season.