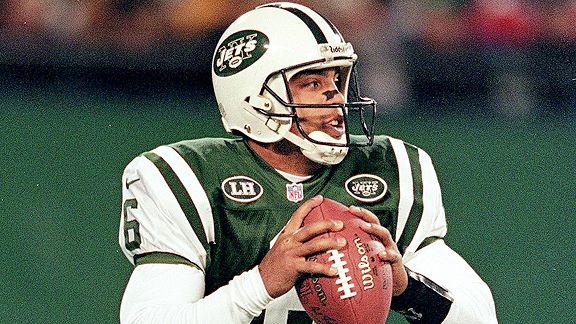 Al Bello/Allsport
Ray Lucas spent four seasons with the Jets (1997-2000).Former New York Jets QB Ray Lucas, better known in recent years as a charismatic studio analyst for SNY, checked into a drug rehab center last Saturday and is chronicling his experiences on his Facebook page.
It is an extraordinary step on many levels. Lucas is going public with a very private matter because he wants to call attention to his belief that the NFL is indifferent when it comes to former players and their chronic health problems. He's also hoping this measure will persuade other athletes with addictions to seek help.
In Lucas' case, it's an addiction to painkillers. He developed it during his NFL career and he recently underwent neck/back surgery at Pain Alternatives Solutions Treatment, a New Jersey medical group that provides pro bono care to struggling athletes and others.
Lucas, 38, checked into Behavioral Health of the Palm Beaches in Florida last Friday, and he's being helped out by former Tampa Bay Buc Randy Grimes, a counselor at the facility. Grimes speaks from experience; he once was hooked on pain killers.
I met Lucas in 1997, when he joined the Jets in Bill Parcells' first season as a coach. Lucas was brash, tough and loyal, and he played a pretty good quarterback in 1999, when Vinny Testaverde blew out his Achilles. He retired in 2003 and was in constant agony from his football injuries.
Now he's hoping to use his experiences to inspire others. Here are his first three entries on Facebook:
Day 1: "I arrived in Fla. Randy tells me not to be nervous but that is impossible. I am in the car on my way to BHOP/Seaside. Nervous about everything, my palms are sweating. This weather will be good for my body. Got a text from my mom she & my family are relieved I am here. I am on my way to start my life over. Can't believe all the FB responses already, it's a good sign & the support is needed."
Day 2: "The end of day 2 detox. The symptoms of detox are taking hold, I am in a lot of pain & everything hurts.This gets me scared. This place is amazing, having another player, Randy Grimes, who has been through it by my side is a difference maker. Today in a session for the first time in my life I was dealing with the emotional impact of my departure from the NFL. This is the start of the fight & I AM WILLING TO FIGHT!"
Day 3: "Day 3 of detox was filled with a lot of anxiety. I was moved from the detox unit into the Seaside condos to start full days of various therapy sessions, group meetings & other treatment. I am nervous & feeling on edge. I met my therapist, it was a very emotional time a lot of feelings coming to the surface I am drained."
Entry 4 (Feb. 10): "The last 2 days have been days of transition. I was moved from detox into the Seaside condos. They are beautiful. I am still going through detox, it's not easy. My body hurts all over as they work to unwind the years of pain killer use dating back to my playing days & then medicating my significant injuries in my retirement. I am feeling lot's of anxiety. It has been a few tough days but I will get myself back."
Entry 5 (Feb. 12): "Today marks 1 week since Randy Grimes & Jen Smith brought me to treatment for pain killer dependency due to my NF L injuries & depression. I am hangin in there. The 1st week has been difficult because of my pain. I had no idea how much pain I was in because the amount of medication I was taking. They are helping me with the pain with massage & acupuncture. I have started going to group & I am fighting the good fight."
Entry 6 (Feb. 17): "A day ago I was packing my s--- & wanted to leave. I can't sleep & the pain is getting to me. The lead Doc talked me down & explained that my brain was in a craving mode & the thoughts of leaving were tied to that. It was enlightening & I am feeling better. P.A.S.T/ BHOP brought in another ret. NFL player into the player program Sunday. There are so many of us out there. This place & the program are saving lives."
Entry 7 (Feb. 22): "I have been adjusting to things here. I feel like I am turning the corner. I am beginning to understand what the pain killer use was doing to my brain & what a cunning disease this is . I want to be a better husband , better father. P.A.S.T. & BHOP brought another former NF player in to treatment & two others are on their way here. We will all work together as group , looking forward to that."
(Entry 8, Feb. 24): "I was not at all open to going to AA meetings. I was pissed I had to go. I did not understand. I was not an alcoholic, I was not abusing alcohol I thought this was a waste of time. My wife will tell you that I am as stubborn as a mule. I now go to AA meetings & they are making an impact. This week player only groups led by Randy Grimes will start. All the players here will get together for our own group."
(Entry 9, Feb. 27): "Did the first step in group which is led by a therapist & consists of a small group of my peers. I completed the first of the 12 steps. Admitted that I am powerless over my addiction & that my life had become unmanageable. It was hard to bare my soul. It was an emotional experience. Tough to admit you are not in control of it. As an athlete I am competitive & use to being in control. First step .. a big one."