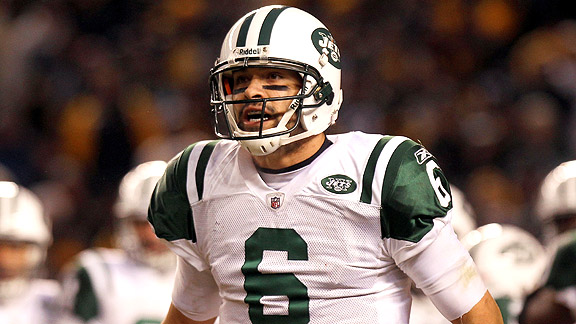 Nick Laham/Getty Images
Mark Sanchez racks up the victories. His other statistics aren't nearly as impressive.This is part four in our daily, position-by-position breakdown of the Jets' roster. Monday: Offensive tackle.
Focus: Quarterback
Depth chart: Mark Sanchez, Mark Brunell, Kellen Clemens, Kevin O'Connell, Erik Ainge, Drew Willy
Expiring contracts: Clemens.
Rear-view mirror: Few players in the league stimulate as much pro-and-con debate as Sanchez. Our take: He wins a lot of games for a guy with mediocre passing numbers. He finished near the bottom of the league in passer rating (27th), completion percentage (29th), yards-per-attempt (26th) and yards-per-game (25th), yet he won 13 games, including two in the playoffs to become the Jets' all-time winningest QB in the postseason. To his credit, he raised his level of play in the postseason with a sore shoulder.
How did he do it? Give credit to his competitiveness, for sure, but Sanchez has been helped immeasurably by a very good supporting cast. Would he be as successful in Tampa if he traded places with Josh Freeman? It's debatable. Sanchez is a good system quarterback, not a true franchise quarterback, according to some scouts. Hey, there's nothing wrong with that -- as long as you're in a good system and the front office keeps enough talent around you.
Sanchez improved his decision making significantly -- one interception every 39 attempts, up from one per 18 attempts as a rookie. (Luck factored into that, as you will see below.) His lack of accuracy (54.8 percent) is troubling. Anything below 60 percent is unacceptable, especially in a ball-control offense. His slow starts, too, are maddening -- a first-quarter passer rating of only 66.9. Scouts say he's slow to adjust when a defense unveils a new wrinkle at the start of a game -- i.e. the Denver Broncos using a four-man line instead of their 3-4. Isn't it interesting that he picked up his play late in the season when he was called out publicly by Rex Ryan?
Maybe we're being too hard on him, considering his lack of experience, but the point is this: Sanchez is closer to "work in progress" than "elite quarterback."
Numbers Game: Sanchez led the league with 15 dropped interceptions, by far the most, according to FootballOutsiders.com.
Crystal ball: Quarterbacks usually take a big step in Year 3, so things look promising for Sanchez. He knows how to win; that sounds simple, but a lot of quarterbacks with more physical talent than Sanchez haven't mastered that. The key for him is becoming more consistent, not only from game to game, but from quarter to quarter. He also needs to make smarter decisions off the field if he wants to last in New York.
"Booger" Brunell figures to be back as the No. 2/Sanchez big brother. Clemens is a goner. Ainge, who spent the season on the non-football injury list because of substance-abuse issues, still is under contract -- but his future is shaky at best. They need a developmental player to fill the No. 3 spot.
Hot Seat: Sanchez. As long as you play quarterback in New York, you're on the hot seat.
Positional rating (scale 1 to 10): 7.5