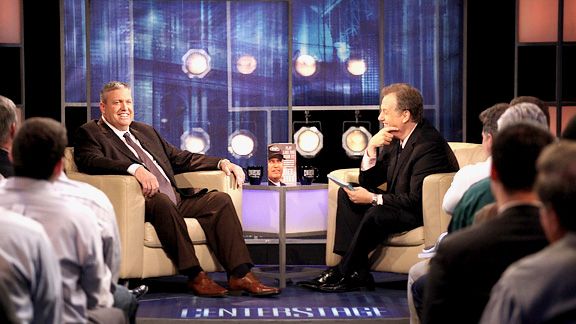 Ellen Wallop/YES Network
Jets head coach and new author Rex Ryan joins Michael Kay on the YES Network's "CenterStage."
Rex Ryan gave 21 interviews on just Wednesday alone. Since starting his media tour to promote his book, "Play Like You Mean It," Ryan has been on a promotions blitz that has included everything from "Late Night with David Letterman" to Comedy Central's "Colbert Report" to "CenterStage" with Michael Kay.
It raises the question -- Is the Jets coach really that interesting?
"Not really," said Ryan, backstage after a taping for an episode of "CenterStage" slated to debut on May 13 at 11 p.m.
As much as Giants and Patriots fans are tired of hearing him, Ryan added, "I'm tired of hearing myself."
Still, the CenterStage episode is long enough to allow Ryan more than a Super Bowl guarantee and a snack reference.
He had him time, for example, to talk about what a little troublemaker he was growing up in Toronto, his paper routes and fledgling baseball career.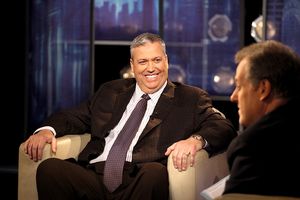 Ellen Wallop/YES Network
As much as Giants and Patriots fans are tired of hearing him, Ryan added, "I'm tired of hearing myself."
There was an elephant in the room, however, when Ryan talked about his wife, Michelle, and what life has been like for them in the limelight. For a man who has made everything so public, refusing to reference what is perhaps the most notorious moment of his career as Jets coach is a glaring omission.
Here are some of the highlights:
• Ryan is an advocate of the lap-band surgery that has helped him lose 65 pounds. He said he talked to NFL commissioner Roger Goodell about it, as a potential boost to player health in a big league. "If we really want to help these guys after football, we give these linemen the opportunity of having this surgery done."
• When the Jets were looking for a head coach and Ryan was a candidate, general manager Mike Tannenbaum and head of PR Bruce Speight decided that, in order to do their homework on Ryan, each Jet department head would call their counterpart at the Ravens to find out more -- from the video department to the grounds crew. "The reason I got the job is there wasn't one negative comment, and I spent 10 years there," Ryan said.
• Yes, calling out Patriots coach Bill Belichick before the playoff meeting last season was a pre-planned distraction. But you knew that already.
• An altercation with another person as a Ravens assistant compelled the Jets to administer a pre-hire psychological test to Ryan with security head Steve Yarnell. Ryan seemed a bit chagrined that this was brought up.
• In another shot at the Giants, when talking about his Super Bowl ring as defensive coordinator with the Ravens, Ryan kept up the squabble about who runs New York. "I never realized I won that ring according to Justin Tuck," Ryan said.
• Rex Ryan was 45 minutes late to his first job interview with Jets owner Woody Johnson. Luckily for Ryan, while Johnson waited, Ravens majority owner Steve Bisciotti tried to sell him on the defensive coordinator.
• Ryan got the Ravens job because then-coach Brian Billick saw him give two coaching clinics, one to 5,000 people and another to just four. Ryan said when Billick saw he was equally passionate no matter the crowd, that's when Billick resolved to give Ryan a job.
• A high-school age Ryan used this pickup line on a Playboy bunny: "You must be from Heaven because you look like an angel to me." It worked. Ratchet up the degree-of-difficulty due to the fact that they met at a roller rink and he was on skates at the time.
• He proposed to his wife Michelle over the phone, and her engagement ring was $285. It's since been upgraded.
• So far, the best moment of the media tour has been chatting with actor Bill Murray backstage at Letterman.
• Jets DE Ropati Pitoitua, who was out for the season after sustaining an achilles injury during a preseason game, as detailed in HBO's "Hard Knocks," is "doing fantastic." Ryan said, "Expect him to be ready to go this season."
• Ryan said he wasn't ready to let Jets assistant coach Bill Callahan go when other teams came calling. And Ryan isn't sure when he will be. "Will we let him go or not?" Ryan asked. "At that time there was no chance and I think he understands that."
• Can he imagine any other current NFL coach writing a book and promoting it? Say, Belichick? "You know he's not going to do these," Ryan said. "His book would be short though."