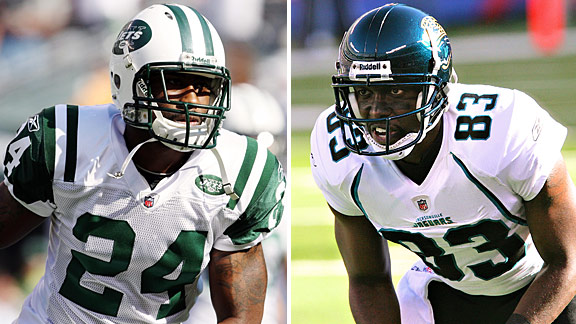 US Presswire, Icon SMI
Jason Hill will get a good look at Darrelle Revis on Sunday -- if Hill plays.Jaguars WR Jason Hill suggests that Darrelle Revis is, in part, a product of New York hype.
"This is a league full of great players. I think sometimes they get overhyped," Hill told the Florida Times-Union. "I talked to Drew [Coleman], Drew played there. He says it's just the aura of New York. They got a big media. That's not the Jacksonville paper, that's the big New York Times paper so they get more pub. That's what it is.
"It's a game that we all play. He been playing the game, Revis, just as long as I've been playing. This is a game full of good players making plays. He just made a lot more plays on TV than we've made being here in Jacksonville. He's a good player. We respect him. Hopefully he respects us because we're going to bring it just like they're going to bring it."
Hill was asked if the Jets are overhyped.
"I think the whole New York is overhyped," Hill said. "Him personally, he's a good player, Pro Bowl player, I'm trying to make it to the Pro Bowl, too. This'll be a good game to put some notches on our belts, too. It's the New York Times vs. the Jacksonville paper. New York Times, they got a lot more viewers than you got."
Presumably, he meant readers.
Who is Jason Hill? He's a sixth-year receiver with 55 career catches. He hasn't practiced this week because of a hip injury.