All season long, Mike D'Antoni has been searching for a point guard to run his offense.
Turns out, he may have had one buried on his bench.
Third-string guard Jeremy Lin ran the Knicks offense with a cool efficiency on Saturday night, finishing with career-highs in points (25), assists (seven) and minutes played (35) in a 99-92 win.
In short, Lin gave the Knicks (9-15) everything they'd lacked through the first 23 games.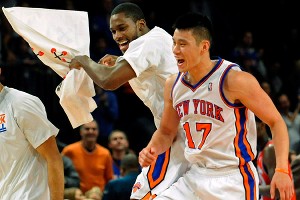 AP Photo/Bill Kostroun
Jeremy Lin brought excitement back to the Garden on Saturday night.
"He played really well," said D'Antoni, whose seat may have cooled down a bit after Lin's breakout performance. "The biggest thing is, he's got a point guard mentality."
Something D'Antoni's club was sorely missing this season.
New York tried to get by with Toney Douglas at the point and Carmelo Anthony serving as a point forward of sorts. But all that got them was an 8-15 record and an inept offense.
Entering play Saturday, the Knicks ranked 24th in offensive efficiency, 26th in turnover percentage and 25th in assist percentage.
Couple that with the fact that they'd lost 11 of 13, and the were a team in desperate need of a spark against New Jersey.
Who knew they had it in Lin?
The Knicks signed the former Harvard standout off of waivers in late December after he was released by both Golden State and Houston during training camp.
He sat on the bench for most of his first three weeks with the team and even spent three days with the Knicks' Development League affiliate, the Erie Bayhawks.
Lin admitted Saturday night that often wondered whether he'd get an opportunity to really play in the NBA.
"At times it did cross my mind; maybe I might not get a chance," said Lin, who played sparingly for Golden State last season.
Opportunity first knocked for Lin on Friday night in Boston. He had two points, an assists and two rebounds off the bench against the Celtics.
That's certainly nothing to write home about. But the most telling indication of Lin's value came in the second half. With Lin on the bench, the Knicks squandered a 12-point second-half lead.
So with the offense sputtering again on Saturday, D'Antoni decided to go to Lin with 3:35 to play in the first.
The 23-year-old finished the half with six points, three rebounds, four assists, one steal and one turnover -- his only miscue of the night -- and the Knicks went into the locker room down two.
"He has been breaking down guys in practice for a while now," Tyson Chandler said. "We were saying at halftime he just needs to play more minutes."
Lin got them in the second half, and continued to execute. Despite a few missed jump shots, he never stopped attacking.
He found Chandler for an alley-oop midway through the third that gave the Knicks a one-point lead. Later, Lin converted a layup while getting fouled with three seconds to go in the quarter. He hit the subsequent free throw to make it Nets 72, Knicks 70 heading into the fourth.
"He was having a lot of success," Nets point guard Deron Williams said.
Turns out, Lin was just warming up. Lin had 12 points and two assists in the fourth. His biggest bucket might have come with 2:03 to play, when he got by Williams and down the lane for another layup, giving the Knicks a 95-86 lead. The Garden exploded in chants of "MVP, MVP!"
On the Knicks' next possession, Lin crossed up Williams again and converted a layup, giving him 25 points and giving the Knicks an 11-point lead with 1:36 to play.
"He won the game for us," Anthony said.
Lin said he spent Friday night on Landry Fields' couch after the Knicks got home from Boston.
After Saturday night's performance?
"I might just move in with him," Lin said with a laugh.
And D'Antoni might just start him on Monday against Utah.
"Let me go home and digest this a little bit, but obviously we're going back to the well," D'Antoni said. "He can give us something that we can't do without."
You can follow Ian Begley on Twitter.