NEW YORK -- As special as Jeremy Lin has been, especially Friday night scoring 38 points against the Lakers, the Knicks wouldn't be on a roll right now without the defensive camaraderie developing between Tyson Chandler and Jared Jeffries.
Carmelo and Amare who? Chandler and Jeffries are earning stripes as a formidable frontcourt duo in New York in Anthony and Stoudemire's absence. Their combined play was punctuated against the Lakers, holding two of the best big men in the game, Pau Gasol and Andrew Bynum, to only 19 combined points.
Gasol didn't get too many touches (only 10 attempts; about four below his average), and Bynum only had three points. How bad was he? The last time the Lakers center was 1-for-7 or worse from the field was Dec. 26, 2009, against the Kings (1-for-9).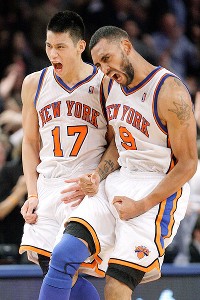 AP Photo/Frank Franklin II
Jeremy Lin (17) is a big believer in Jared Jeffries (9).
After the Knicks upset the Lakers 92-85, coach Mike D'Antoni made sure to extend the credit to Chandler, Jeffries and Iman Shumpert.
"The hype should go [to Lin], but you also can't overlook the other guys' performances. It was our defense," he said. "Tyson Chandler and Jared Jeffries in the first half were incredible. Shump, at the end, guarded Kobe [Bryant] well. We held them to 37.5 percent shooting. There were so many good things. We're a team, and that's how it's going to be. It's great."
Lin, like all of the Knicks, has credited Chandler for being the team's defensive anchor. After the game, Jeffries complimented Chandler for his one-on-one defense on Bynum, even to go as far as saying that he should be an All-Star.
"Tyson carried us. I think a lot of people overlook him," Jeffries said. "His ability to guard Andrew Bynum one-on-one is incredible. He played one-on-one with one of the best centers in the league. He's an All-Star center. I think if anybody looks at this, Tyson should be an All-Star just for what he does defensively against guys like Dwight Howard and Andrew Bynum."
Lost in the shadows has been Jeffries, and he's finally getting the recognition he deserves for his ability to defend, make hustle plays and -- if you can believe it -- finish at the rim, which had never been his forte. But thanks to Lin's playmaking, he's been able to find open lanes to the basket.
Friday night, Jeffries tallied 11 points and nine rebounds -- his second game in four outings scoring more than 10 points, and his second time during that stretch almost securing a double-double.
After the Knicks beat the Jazz 99-88 Monday night, D'Antoni spoke passionately about Jeffries, saying, "Anybody who boos Jared Jeffries has got to re-examine their life a little bit." On Friday, it was Lin's turn, calling Jeffries "an absolute glue guy for this team."
"What he does defensively every single rotation, you see him taking charges, getting rebounds, offensive rebounds, keeping plays alive, deflections," Lin said. "His whole demeanor, his whole aura. I couldn't think of anybody who's more underrated than Jared."
Jeffries and Chandler have established a respectable partnership down low, and it's started with communication. Both guys credit approaching each other during timeouts and on the court discussing defensive schemes, and calling out switches and player movements on the court.
"We've built a lot of camaraderie, man," Jeffries said. "Tyson does a great job of talking and it's easy for me to go out there and play with a guy like him, and play at that level. It's fun right now. We're all having fun and we're just riding the wave of what Jeremy and Tyson are doing for us."
"I love having Jared on my side," Chandler said. "His communication, coming in and out of timeouts, telling me what he's seeing out there. I know he's somebody that I can rely on. Also, I don't have to help as much. When I can key in, like tonight, on Bynum and that's it, I'm going to shut people down. When I get in trouble is when I have to help other people a lot, and I come over and my guy already has the ball in scoring position."
Chandler and Jeffries' swarming defense made it especially difficult for Bynum to turn his body to face the basket. He really had to work hard to fight for positioning, and when he tried to twist his body to get into a scoring stance, it didn't work. Bynum was too clogged, and he ended up shooting off-balanced, contested shots.
Chandler said the Knicks' game plan was to attack Bynum and Gasol aggressively. It was the right move because the Lakers were playing their second game in a back-to-back, and it was especially grueling after pulling out a grind-out 88-87 overtime win Thursday night in Boston.
"I don't know what they were feeling, but I'm going to give us credit for the way we came out and played," Chandler said. "We're on a nice little streak right now and this is one of those games where you felt like, OK, let's really show them what we got. I feel like we came out and we did it."
Bynum's and Gasol's misses enabled Chandler and Jeffries, who hadn't played since Wednesday against the Wizards, to eat up the boards. They combined for 20 of them (14 defensive). Since Lin has taken over the starting point guard position, the Knicks are now capitalizing better on those defensive rebounds. Lin has been the best Knicks' point guard this season at getting out into the open court and creating smart scoring opportunities for himself and his teammates.
"We have a guard now that's getting out on the break and making quick decisions," Chandler said. "Our problem before is we were getting stops, but then we were walking the ball up, playing at a slow pace. We didn't have the personnel to do that. We don't have anybody who's just going to just drop the ball in the post to and demand double teams, and all that kind of stuff. I'm not that type of player. We've got to get out. When we get stops, we've got to run, get into pick-and-rolls, slash, find open guys and knock down shots."
Lin is now a headline around the world, even beyond sports, but any story he's in, it should definitely include Chandler and Jeffries. Because without them, Lin would be just another surprising scorer. Not a winner, which the Knicks, New York and sports are all about.
You can follow Jared Zwerling on Twitter.