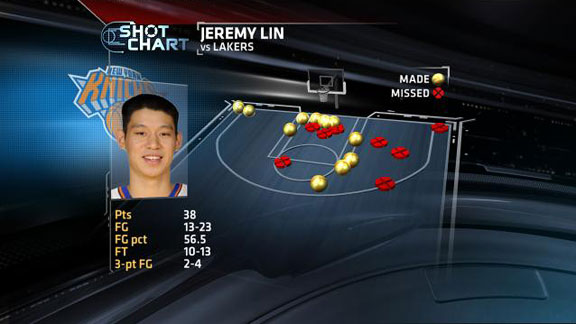 ESPN Stats & Information
This could very well be a regular postgame column if Jeremy Lin keeps this up. Every game, he's setting new records and improving the Knicks' offensive efficiency.
Here are five eye-catchers after the starting point guard led his team to a 92-85 victory over the Lakers:
1.) Lin's 38 points Friday night, the most for any Knick this season, gave him 89 points in three starts. That's the most by any player in his first three career starts as a pro since the NBA-ABA merger in 1976-77. The previous mark was set in 1979 by former Knicks center Bill Cartwright, who had 80 points. The last Knicks player to score 38 or more points against the Lakers was Stephon Marbury, who had 45 on March 29, 2005.
2.) Lin has had four straight games of at least 20 points and seven assists. The only other player to have a streak of that length this season is LeBron James.
3.) Way before tonight's game, even during the 2010 pre-draft process, there were doubts about Lin's shooting ability. Since he exploded on to the scene last Saturday, Lin was mostly scoring at the rim, but his shooting accuracy from 3 to 23 feet was below 30 percent. Against the Lakers, he was more effective from 15-plus feet than he's been all season; hence the added points. The Lakers forced Lin to the outside and he attempted 10 of his 23 shots from 15-plus feet, making six of them.
4.) Tonight, Lin scored or assisted on 57.6 percent of the Knicks' 92 points (53 of them). While he scored 38 points, his seven assists led to 15 points. In his previous three games combined, Lin created 43.9 percent of the Knicks' 305 points (134 of them).
5.) The Knicks have nearly doubled their productivity on pick-and-roll plays over the last four games with Lin as the starting point guard, compared to the team's first 23 games. Lin is shooting 61.8 percent as the pick-and-roll ball handler over his last four games, and the Knicks have followed his lead on pick-and-roll plays, scoring 29.8 points per game off them (compared to 15.9 before) and shooting a higher percentage (53.8 to 45.4).
Source: ESPN Stats & Info
You can follow Jared Zwerling on Twitter.