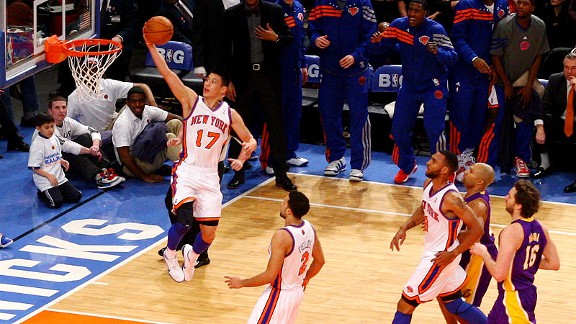 Chris Chambers/Getty Images
Jeremy Lin left the Lakers in his wake on Friday night.NEW YORK -- Even though Jeremy Lin torched the Lakers, outplayed Kobe Bryant and practically turned Madison Square Garden upside down, Los Angeles center Andrew Bynum figures his team did Lin a favor.
"Today, we just added to his hype and kept him in the league for 10 years," Bynum said.
It might not be hype anymore. Lin dropped a career-high 38 points, along with seven assists and four rebounds, as the Knicks beat the Lakers, 92-85, for their fourth straight win.
This time, Lin performed against one of the better defensive teams in the league and continued a fantasy run that has captivated the basketball audience across the country.
"He's a good player, it's really that simple," said Lakers forward Metta World Peace, a native New Yorker. "I don't know how good he is going to be, but he has been playing well over the last four games since he has been starting. That's the only assessment I can make right now.
"I thought that the Garden was rocking and it was a great atmosphere. It was great to be a part of the game. I just wish we could have come out with the victory."
World Peace, formerly Ron Artest, had plenty of time to watch the Jeremy Lin Show from the bench after getting in a brief exchange with Bill Walker and then picking up back-to-back fouls on Tyson Chandler. He may have been entertained by Lin's exhibition, but teammate Pau Gasol was not.
"I think you can stop a player from getting 38 points on you," Gasol said. "I don't care how good he is. We didn't step up to the challenge as a team. [We] overlooked him, I guess, I don't know.
"Obviously, he made some big plays, made some big shots. Give him credit. But I think we could have done better."
Lin scored 10 points in the first quarter, displayed a jump shot that most critics did not believe he had, and constantly found ways to probe the Lakers' defense, including one ridiculous reverse layup that gave the Knicks a 10-point lead with 2:29 left to play. He also shot 13-for-23 from the field.
Kobe Bryant , who finished with 34 points and 10 rebounds, said after L.A. beat Boston on Thursday that he didn't know what "Linsanity" was all about. But he did see tape of Lin before the Friday's game. He did not expect a performance like the one Lin produced.
"It just means that we probably haven't been playing attention," Bryant said. "Players playing that well don't usually come out of nowhere. It seems like they come out of nowhere, but if you can go back and take a look, his skill level was probably there from the beginning. It probably just went unnoticed."
You can follow Christopher Hunt on Twitter.