NEW YORK -- As the legend of Jeremy Lin grows, the looming questions about Carmelo Anthony's return are also gaining momentum.
What's going to happen when Anthony returns to the lineup? Will he bring the Knicks' new and exciting ball movement to a screeching halt, or will Mike D'Antoni have to adjust is system to adapt to one of the league's best scorers?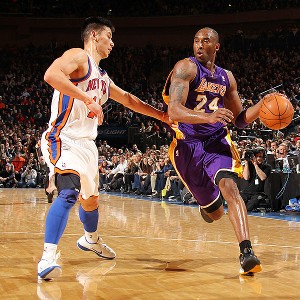 Nathaniel S. Butler/NBAE via Getty Images
Worried about the Knicks' offense when Melo returns? Kobe says it's much ado about nothing.
"I think Melo having the ball in his hands in this town is overrated," said Lakers star Kobe Bryant, a teammate of Anthony's on Team USA. "I mean, I've played with him. The ball is in his hands and then it's gone."
The bulk of Anthony's scoring this season has come off isolation plays, which, at times, made the Knicks' offense stagnant. Players have admitted to being lulled into watching Anthony instead of keeping the offense moving. The fear is that the increased tempo New York has seen with Lin at the point will be slowed by Anthony's need to pound the ball into the post.
Bryant did not accept the idea that Anthony might need to make a big adjustment when he returns to the lineup from a strained right groin injury.
"He's not a player that's going to dribble the ball a whole bunch, so I think that is a little overrated," said Bryant, who also thrives in isolation plays. "They need to get the ball to Melo in the post and in the mid-post because that's where he operates, and its frees him up to do what he does best.
"He's not going to be a facilitator, so people need to stop expecting that from him. That can be Jeremy Lin's job. Melo can put the ball in the basket and let [Lin] do what he does best."
The Knicks are on a four-game winning streak without Anthony or Amare Stoudemire. One reporter jokingly asked D'Antoni if he would let his two biggest stars (if you don't count Jeremy Lin) back into the lineup.
"I'm excited about getting those two guys back and I'm excited about the possibilities and where we can go, and even Josh Harrellson, who adds another element to it," D'Antoni said. "We should only get better from here. That's obviously the objective. And guys will have to bend a little bit, but also we'll bend toward them and they know that. They're good guys."
You can follow Christopher Hunt on Twitter.