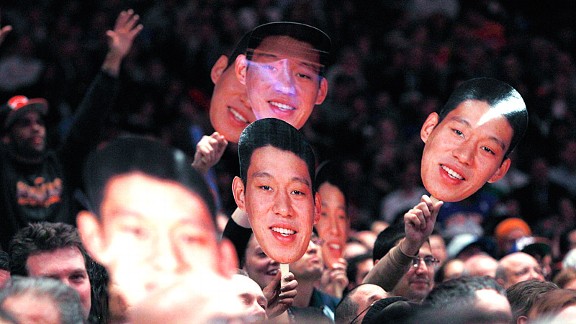 AP Photo/Frank Franklin II
Knicks fans were in high spirits Wednesday night, heckling opposing players with Jeremy Lin masks.Knicks fans booed Sacramento Kings guard Isaiah Thomas mercilessly on Tuesday night because he shares a name with you know who.
Thomas first heard from the Garden crowd when he was introduced by the PA announcer as he was checking into the game. Then, the boos continued virtually every time he touched the ball during the Knicks' 100-85 win over the Kings.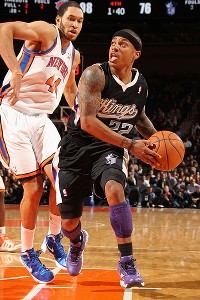 Nathaniel S. Butler/NBAE/Getty Images
Isaiah Thomas scored 14 points on Wednesday night.
"When I used to come to [MSG], I heard them talking about firing Isiah and all that, so I knew something was going to happen," Thomas said in the visiting team's postgame locker room. "I knew they were going to boo at least once. I didn't think they were going to boo the whole time, but it is what it is."
The rookie, who entered Wednesday averaging 7.0 points and 2.4 assists per game, has no relation to Isiah Thomas, the former Knicks president, general manager and coach.
Isiah Thomas worked for the Knicks in those different capacities from December 2003 to April 2008. The Knicks made the playoffs just once in that span and did not win a single playoff game. Thomas was responsible for several ill-fated acquisitions, including the high-priced signings of Eddy Curry, Jerome James and Stephon Marbury.
Even after Wednesday's game was over, Isaiah Thomas heard from a fan about his name. But it wasn't any typical fan. It was Spike Lee.
"He grabbed and said, 'Us little guys got to stick together. But next time you come to New York, just change your name, [laughs]'" Thomas said.
Thomas first played at the Garden a few years ago for the Nike Super 6 High School Invitational when he was a blue-chip recruit. He described how different the experience is there than playing at other arenas.
"The lights are real bright. You can tell it's just a different feeling," Thomas said. "It's the center stage, man. You've got to be ready for this. It's a nice place to play."