Tyson Chandler had X-rays on both wrists and his back after Sunday's win over the Dallas Mavericks.
The results were negative.
The Knicks announced that he will be reevaluated before Monday's game against the New Jersey Nets.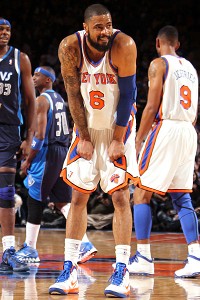 Nathaniel S. Butler/NBAE/Getty Images
Tyson Chandler paid the price for his 11th double-double of the season.Chandler fell and hit the floor hard in the second half and was slow to get up.
The center said after the game he was in the most pain he'd been in all season, adding that he expected the test results to be negative.
"This is the worst I've felt all season," Chandler said. "I had a rough night tonight, some tough plays. I came down awkwardly a couple times. But, you know, you always know more in the morning."
Chandler had 14 points and 10 rebounds against his former club. It's his 11th double-double of the season. He had 18 such games last year for the Mavericks.
Chandler is optimistic about the Knicks future now that the team has solved its point guard issues and seems to have found perimeter shooting with Steve Novak and J.R. Smith in tow.
"It's unbelievable. Right now I feel like with our starting lineup and our bench, we're very deep at every position. We could be special," said Chandler.
He also called Sunday's win the Knicks' best "team effort" of the season.
"We've had individual stars on different insights. But tonight I really felt like we were hitting on all cylinders. We really have a balance now, you can see it."