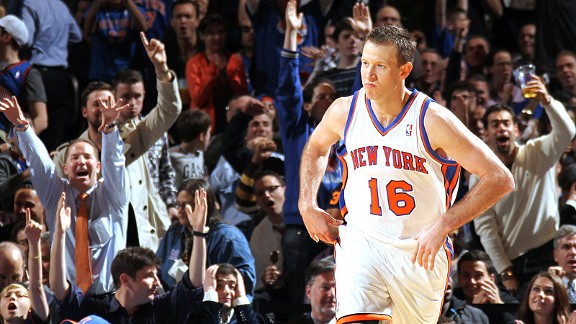 Nathaniel S. Butler/NBAE/Getty Image
Steve Novak went 5-for-8 from 3-point range and brought the Garden crowd to its feet.NEW YORK -- It all started during Tuesday's practice at the Knicks' practice facility.
The team organized two 20-minute, full-court scrimmages and Amare Stoudemire matched up with Steve Novak for part of the time.
But there was nothing Stoudemire could do -- even while face-guarding Novak, denying him the ball, you name it.
"He was really hot," STAT said in the postgame locker room Wednesday night.
So hot that Novak revealed, while addressing a small group of reporters, that he never had a better NBA practice.
"I think it was the first practice I didn't miss [a shot]," the sharpshooter said. "It was one of those days."
Michael Jordan once famously said that if you practice hard and the right way, playing in actual games should come easy. That's exactly how Novak looked at the Garden on Wednesday night, helping the Knicks outscore the Cavaliers 33-19 in the third quarter, en route to a 17-point win, 120-103.
With 2:16 to play in the second quarter, Cavaliers small forward Antawn Jamison swished a baseline 3-pointer to put his team ahead by 17 points, 59-42. That was their largest lead of the game.
"In the first half, we can't come out slow like that if we want to be as good as we can," Novak said. "We came out kind of flat, and in the second half we knew we had to get it going. I was definitely feeling good tonight."
After Tyson Chandler addressed the team during halftime, encouraging them to play with a higher energy level, Novak knew what he needed to do. When he checked into the game with 5:22 to play in the third quarter, he wanted to give his guys a quick spark. He didn't waste any time, especially being a quick catch-and-shoot player.
Novak's three with 2:51 to play in the third that finally gave the Knicks the lead, 75-74. Novak had two more threes to end the period to keep the Knicks in front, 82-80.
Then, only 12 seconds into the fourth quarter, Novak hit another 3-pointer to give the Knicks a five-point lead, 85-80. About two minutes later, Novak knocked down another triple to put them up, 90-82. At that point, if you can believe it, Novak was a worldwide trending topic on Twitter, enhanced by the fact that he hit one of his threes in the baseline corner with only his right shooting hand on the ball right before its release.
That's the attention Linsanity has brought to any of the Knicks who get hot. Novak wasn't aware of the global interest he sparked on the popular social networking service, but he laughed about it afterward.
Iman Shumpert, whose locker is two away from Novak's (Landry Fields' separates them), smiled when asked about Novak.
"If Novak gets hot, we'll be all right," the rookie said.
Cavaliers point guard and former St. Patrick (Elizabeth, N.J.) high school star Kyrie Irving called how Novak turned things around for the Knicks "definitely demoralizing."
"You try to make a comeback and they make big threes," he said. "The crowd is into it and it is definitely hard to make a comeback."
After the game, Novak said he "would be lying" if he said he didn't hear the Garden fans, who were chanting "We want No-vak! We want No-vak!" when he was sitting at the end of the game during the blowout. In fact, Novak said the crowd gives him confidence.
"To hear your name chanted at the Garden, there's nothing like it. It's unbelievable," he said. "When I catch [the ball], it's almost like you hear, 'Ooh,' and then if it doesn't go in, the crowd's like, 'Ahh.' The first part, you feel like they want you to shoot it. Such a big part of it is mental. After you miss one, a lot of times you're like, 'Ahh.' I think you've just got to show maturity, you've just got to stay ready. I've just got to shoot the next one, that's my job."
Entering Wednesday, Novak, who was averaging 7.7 points per game on the season, has upped that number to 12.3 ppg since Feb. 6 against the Jazz, the same night Jeremy Lin started for the first time. Novak said Lin and Baron Davis' penetration, including the attention Chandler and Amare Stoudemire routinely get in the paint, has increased his open looks from downtown.
"The way Tyson and Amare are rolling down the middle, drawing the defenses, I think it makes Baron's job easier, it makes my job easy," Novak said. "That's a big part of it, just staying open, staying spread and making the defense kind of choose if they're going to take away the middle or the perimeter."
Novak also credited the opportunity to play within D'Antoni's system for his recent surge. He told ESPNNewYork.com that even with the faster defensive athletes in the NBA compared to those when he was playing at Marquette, he's actually getting more space to shoot because of the better spacing in the Knicks' offense. He felt "more condensed" to release the ball in college.
"I've known coaches at Phoenix who said if I could be in a system like this, it would be good for me," he said. "Watching obviously Steve Nash make everybody look good and D'Antoni's system is open and he likes shooters, I've always known that would be fun to play in. And I hoped that I would be good.
"I was lucky when Glen [Grunwald] called and offered me a contract this year. I was like, 'Wow, it's really going to happen.' Obviously me being in my sixth year too, I think the stars aligned a little bit in the fact that I'm more mature. Defensively, I didn't understand things quite enough. Now, I'm at a point where if I miss a few shots, hopefully I'll still be valuable enough defensively to stay on the floor."
D'Antoni has raved about Novak's defense, but he takes it a step further when describing the power forward's shooting ability.
"The way Novak played, he was ridiculous," D'Antoni said during his postgame news conference.
Not only does Novak drain it in scrimmage, but he does the same thing after practice when he shoots at different spots around the arc with an assistant coach, who rebounds for him. Novak knows how much shooters are appreciated in New York because he saw Allan Houston, a player he admires, flourish with the Knicks in the 1990s. Sometimes after practice, they get a chance to run together, and Houston is still Mr. Swish.
"Just the way he can get hot and score in streaks and put up 50 points in a game just by being such a threat shooting the ball," Novak told ESPNNewYork.com. "I also really looked up to Larry [Bird]. You could tell he wasn't the most gifted guy in the world, he wasn't the strongest, most athletic guy, but he was able to be so effective. He's someone who I aspired to be."
Now, Novak is creating his own persona in the Garden. In fact, MSG Network color analyst Walt Frazier calls him "Novakaine" during Knicks broadcasts. Novak not only said he's thriving off the hoopla, but the shortened season as well. Whereas most players say the condensed schedule poses challenges, interestingly Novak told ESPNNewYork.com that it's helping his game.
"I think, to be honest, and it may seem funny, but the amount of games that we're playing I feel like helps," Novak said. "Because you never go that long of a stretch without getting up or down about a great night or a down night. In like two hours, it's kind of like so what? You've got to do it again tomorrow.
"It's a what-have-you-done-for-me lately kind of thing. It's just kind of nice to know that if you miss a couple or it doesn't go your way one night, you get to play right away. So I feel like it's kind of easier to keep that groove because mentally it's easy too."
So, how has that groove led to "Steve-sanity?"
"No, no, no. There's only one Linsanity. I can't compete with that," Novak said.
You never know. As Lin exploded on to the scene, the Knicks had to move his postgame interviews in the locker room to MSG's main press area, which included about 30 additional seats. No more one-on-ones.
After Wednesday night's game, Novak was mobbed by 20-plus media members at his locker. Soon, that may not be the case if Novakaine keeps nailing.
You can follow Jared Zwerling on Twitter.