GREENBURGH, N.Y. -- Mike D'Antoni is prepared for the second unit to play more.
"It has to if we're serious about trying to do something important in the postseason," the Knicks' head coach said after Thursday's practice. "Everybody's got to buy into playing less minutes and stepping up, not only offensively but defensively."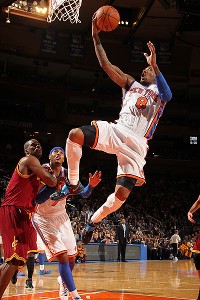 Nathaniel S. Butler/NBAE via Getty Images
J.R. Smith is averaging 10.8 points in his five games as a member of the Knicks' bench brigade.
During a 120-103 rout of the Cavaliers on Wednesday night, the second unit -- Baron Davis, Iman Shumpert, J.R. Smith, Steve Novak and Jared Jeffries -- posted 50 points, 11 rebounds, 10 assists and five steals for the Knicks (18-18), who are 10-3 since Feb. 4.
In his previous three games, starting forward Amare Stoudemire didn't surpass the 30-minute mark -- but he's not complaining about sitting a little.
"No, it's OK. We feel good about that," Stoudemire said. "We feel great about the fact that we can play our second unit. That's a beautiful thing for us because that's going to be something that's very important going down the stretch during the season and on to the playoffs.
"It wasn't just defense. It was offense also. We scored 33 points in the third quarter [Wednesday night]. We played a great all-around basketball game as far as the second unit. They did a phenomenal job for us."
D'Antoni has not closed the door shut on his starting lineup. He provided a window of opportunity for Davis last week when he returned, and said things could change depending on who's playing the best consistently. But he stressed that he wouldn't make any sudden adjustments.
"It can't just be one game. I'm not going to just throw people under the bus for one or two games," D'Antoni said. "But over a length of time, if they prove that they need to be out there, they'll be out there."
You can follow Jared Zwerling on Twitter.