Mike D'Antoni didn't.
And ultimately it cost his team the game.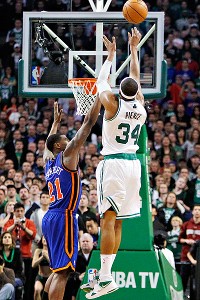 AP Photo/Michael Dwyer
Paul Pierce sent the game to overtime with this 3-pointer.
The Knicks had an opportunity to foul Paul Pierce before he pulled up and hit a game-tying 3-pointer with 4.9 seconds to play in regulation on Sunday.
But D'Antoni elected to let the play run its course. He explained afterward the he didn't want Pierce to draw a shooting foul from beyond the arc. The Knicks were up 103-100 before Pierce knocked down the 27-footer.
Here's what D'Antoni had to say when asked if he considered fouling Pierce:
"We don't do that. There was like five seconds left. ... We play it out," D'Antoni said. "Now if it got down below three seconds, yeah, we tell guys [to foul]. Or if they got within the [3-point line], yes. But when they're outside like that and they could go up at any minute, no."
Pierce knocked down the shot. And the Celtics pulled it out in overtime, handing New York (18-19) its 11th straight regular season loss in Boston.
"I don't know if that's execution, that's having a horseshoe up your rear," D'Antoni said of the game-tying 3-pointer. "That's what Paul Pierce does."