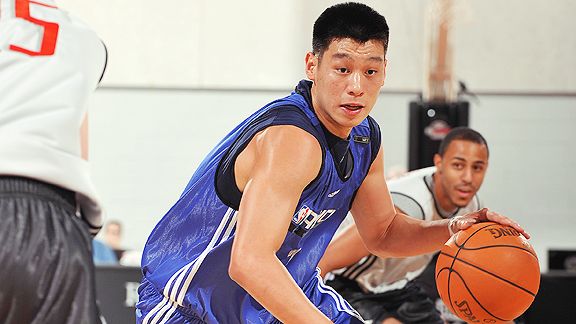 Garrett W. Ellwood/NBAE/Getty Images
Jeremy Lin played for the Mavs' summer league team in 2010.DALLAS -- The two most sought-after players at Tuesday's shootaround were Tyson Chandler, the former Dallas Mavericks center, and Jeremy Lin.
The Knicks' young point guard has some ties to the Mavericks. He was on the Mavs' summer league team two years ago, competing for a spot along with Dominique Jones and Rodriques Beaubois.
"When you play in the summer league, you're not playing for one team unless you're under contract," Lin said. "Anytime you step on the floor, everyone is watching. My goal [was] to play as hard as I could at that time. I didn't want to put too much pressure on myself and I just wanted to have fun and give my best effort to God and let it fall where it may."
It didn't work out for Lin, who later went to Golden State and is now the Knicks' starter at the point. He said he learned a lot from competing with Jones and Beaubois, and is humbled by the opportunity Mavs GM Donnie Nelson gave him to at least try and make a NBA roster. In college, Lin was a shooting guard but had to convert to the point in the competitive summer league. Lin said moving to the point during his brief stint with the Mavs helped him.
"He was the only GM of all 30 teams that gave me a chance to play on his summer league team," Lin said of Nelson. "Thank you to him. Ever since then, a lot has happened and being able to go through some growth and improvement and now being apart of this organization, I'm very thankful for it all."
Lin is going through a four-game stretch where he faced Boston's Rajon Rondo on Sunday, Jason Kidd tonight, San Antonio's Tony Parker on Wednesday and Milwaukee's Brandon Jennings on Friday.
This might be one of Lin's biggest stretches at point guard at this stage of his career.
"It gives him a great learning experience on the fly," Knicks coach Mike D'Antoni said. "But any position is hard. You got a challenge every night and you have to make plays and you have to run the team.
"As a shooting guard, you got to shoot, but [point guards have] about 10 things he has to do tonight and get it done. And everybody presents a different way to guard him and a different person on him ... and defensively he has to do certain things against certain people. A tough position."