NEW YORK -- When Mike D'Antoni addresses the media while the Knicks are struggling, like they are now, he usually gives more straightforward answers.
You can tell he comes prepared for the repetitive questions, including the many follow-up ones to the same topic. He doesn't embellish his responses (he's the complete opposite of a head coach like George Karl), and sometimes he's sarcastic with even briefer remarks, and a delayed smile.
But there are those rare and compelling times when D'Antoni speaks in depth about things he feels need to be clarified. The most recent example that comes to mind is when he answered a question last month about the criticism Jared Jeffries was receiving for his offensive repertoire.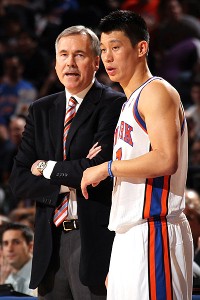 Nathaniel S. Butler/NBAE/Getty Images
Mike D'Antoni and Jeremy Lin
In a roughly 30-second monologue on Feb. 6 after the Knicks' 99-88 win over the Jazz, D'Antoni began by telling reporters (while also speaking to fans), "Indulge me for a second. Anybody who boos Jared Jeffries has got to re-examine their life a little bit. ... He takes every charge, every dirty play, every rebound. He works hard every second. And there are people that look at that and go, 'I think I'll boo him.' I have a hard time believing that."
On Sunday afternoon, a similar situation unfolded -- this time centered around Jeremy Lin's recent struggles during the Knicks' 106-94 loss to the Sixers and their five-game losing streak. The head coach defended his starting point guard in an emotional plea-like way, just like he did for Jeffries.
"Jeremy has to play a certain way," he said. "The floor has to be open, you've got to play with energy, you've got to go. And he's going to make some mistakes, but his overall game will be good, is good.
"I think he has to play a certain way and we'll try to get to that way. We're not there. And he's played 15 to 20 games in the NBA, he's going to have some nights where he's not going to be perfect. But he knows how to win and he figures it out as the game goes on.
"He's going to be a very good point guard, a very good point guard. It's funny, somebody was reading something to me. Somebody was quoted as saying he's going to be a mediocre backup point guard. That's the same guy that probably two years ago said he couldn't play at all.
"We take that as gospel? No. This guy's going to be good, and he's going to have some pains and growing pains, but his heart and his brain is too good, and his athleticism is too good."
Lin has dropped his scoring average from 22.3 points per game in February to 16.4 ppg from March 4 through 11. While that production is still positive, Lin has had more breakdowns setting up plays, which has not allowed the Knicks to generate enough team offense. He's been averaging fewer assists (9.0 vs. 7.2) and shooting a poorer percentage (47.9 percent vs. 39.5), a few of the reasons the Knicks are falling short on the scoreboard compared to their opponents' points total.
In other words, because of the increased traps defenses have been throwing at Lin, he hasn't been consistently successful running the Knicks' pick-and-roll offense. The team has been scoring more of its points in isolation, isolation to kick-outs and off-the-ball screens to make room for shooters. But that style has been too staggered for the Knicks to find any consistency. There's still too much streetball going on and not enough structure.
While Lin addressed reporters in the locker room after the Sixers game -- the first since Feb. 6 against the Jazz before the Knicks moved him to the main media room -- he said he understands the added weight on his shoulders. He realizes that he's a target now.
"I'm getting used to being the primary or the top one, two, three things on the scouting report and I'm seeing a lot of different people try to take away what I was comfortable with," he said. "I need to make sure I stay aggressive and I don't change anything in terms of my approach. I can make better decisions, but I can't change my approach."
Lin credited the Sixers' length and athleticism on the perimeter for disrupting his line of sight. That caused him to have six turnovers -- a few coming in the second quarter, which enabled the Sixers to jump out on the halftime lead, 51-49, after scoring nine fast-break points in the period (compared to the Knicks' four).
"They did a good job of bothering us and taking us out of our primary options," Lin said of the Sixers' defense -- the best in the NBA, holding opponents to 87.2 points per game entering Sunday's play.
It won't get any easier Monday night in Chicago, as the Bulls have the second-best defense (88.7 points allowed). Lin has to learn how to overcome the added pressure, which is something Baron Davis, a 12-year veteran, said the second-year player will have to get used to. Davis is confident the adjustment will happen because Lin is an unselfish player who comes to compete each and every night.
"I just think that at some point, the way the season is and just so many games, you're going to have some ups and downs," Davis said. "I think he's getting hit a lot and he's taking a beating, and his body is probably banged up a little bit. But overall, he's a fighter. He has a lot of heart and we're going to stick with him. He'll turn it around. In Milwaukee, he had a great game. I thought tonight, they were just putting a lot of pressure on him and I think they just kind of wore him down."
Davis also recognized that it's not all on Lin. He said all the players need to rally around Lin and come together with more sustained effort and focus for four quarters, in order to erase their five-game losing streak.
"This is a team game, so you can't put it on Jeremy's shoulders at all," Davis said. "We win as a team and we lose as a team."
You can follow Jared Zwerling on Twitter.