GREENBURGH, N.Y. -- Backup guard Toney Douglas, who took a brief leave for the birth of his son, Toney Jr., on March 14, rejoined the Knicks on Monday for practice. He arrived early to work on his jumper and stayed late to work on his 3-point shot.
While Douglas became the odd man out in Mike D'Antoni's rotation, he said "it's a new day" under Mike Woodson. After his post-practice workout with several members of the Knicks' coaching staff, he spoke for a couple of minutes with ESPNNewYork.com.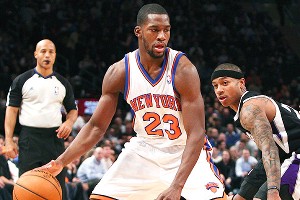 Debby Wong/US Presswire
Douglas has only played in one game since Feb. 6.
Q: How are you envisioning things looking ahead under Coach Woodson now?
Douglas: I'm coming here, get better, stay working, some new plays I have to pick up on. I'm learning on the fly, so that's a good thing. I know defense is the main focus. I'm real competitive on the defense end, and my offense is going to come. Whenever I get in the game, just make an impact.
Q: What are your realistic playing expectations? Is it a be-ready-at-any-moment kind of thing?
Douglas: Yeah, you've always got to be ready. You never know what might happen. I'm going to still stay on top of my game and stay ready and cheer my teammates on, be a good teammate, and hopefully we keep winning games.
Q: What are you working on to prepare yourself when your name is called?
Douglas: Stay strong, get to the foul line, work on my jump shot every day no matter what. And just stay consistent, play at a high level and make sure to keep my stamina up. I can't get tired out there on the floor. Stay in shape and keep my rhythm up. That's why I come in early and just got done working out.
Q: What's most impressed you during the Knicks' three-game winning streak?
Douglas: Defense. I've been watching and they've been very, very awesome for 48 minutes, especially the second unit. The energy and spirit is there.
Q: What has stood out to you about the Jeremy Lin-Baron Davis combination?
Douglas: They look good. They've been playing real well. We need everybody, from Lin to BD to Josh [Harrellson] to [Steve] Novak. We need everybody. Lin and Baron, they've been doing pretty good out there -- even Mike [Bibby] when he's in there. Everybody is making an impact and that's what coach needs.
Q: What teams are you guys gunning for in the East?
Douglas: We're not really gunning for nobody. We've just got to take one game at a time, man, because we can't look ahead. We're already behind a little bit. We've got to catch up and just take one game at a time.
You can follow Jared Zwerling on Twitter.