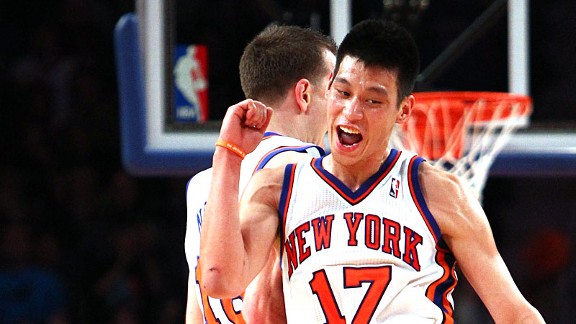 Debby Wong/US Presswire
Who is the most beloved sports figure in the Big Apple? The votes are in -- and it's overwhelmingly Jeremy Lin, who mauled Mariano Rivera in the final.The Linsanity craze may have come to an end, but in the eyes of New York sports fans, Jeremy Lin is still No. 1.
The New York Knicks point guard captured 70 percent of the vote and upset New York Yankees future Hall of Fame closer Mariano Rivera in the Finals to take home the title of the Big Apple's Most Beloved.
The No. 4 seed in a 16-man bracket, Lin easily ousted the top seed, Yankees captain Derek Jeter, in the Semis to reach the Finals. Rivera, the No. 2 seed, dispatched the No. 3 seed, New York Giants Super Bowl MVP quarterback Eli Manning, to take on Lin.
Lin eliminated New York Mets third baseman David Wright in the first round and New York Giants wide receiver Victor Cruz in the second round.
The Most Beloved voting began on March 12 and ended two weeks later.
The 23-year-old Lin became an overnight sensation in February, coming out of obscurity to lead the Knicks to seven straight wins. The undrafted Harvard graduate was on the verge of being cut, but had 25 points and seven assists in what could have been his final NBA game against the New Jersey Nets on Feb. 4, and his legend only grew from there.
Lin scored a career-high 38 points against the Los Angeles Lakers on Feb. 10, and drained a game-winning 3-pointer with 0.5 seconds left in Toronto four days later.
Before his rise to fame, Lin was sleeping on teammate Landry Fields' couch. Now, he resides in his own apartment at the W Hotel Downtown.
As for beating out some of the most beloved Yankees of our generation? For Lin, we're guessing that's no big deal.
Voting has begun for New York's Public Enemy No. 1. Click here to cast your ballot!