It's a simple equation, really: Less Amare equals more Carmelo for the Knicks.
That's the scenario New York is facing right now with Amare Stoudemire out due to a back injury.
And if the bulging disk in Stoudemire's back forces him out for an extended period of time, that's the scenario the Knicks will face for the rest of the season.
"A situation like this requires me to step my game up a little bit more, take it up a notch," Anthony said.
For one night, that worked out just fine for Carmelo Anthony and the Knicks.
The All-Star small forward played power forward on Monday and scored 28 points on 8-of-20 shooting to lead the Knicks to an 89-80 win.
New York is 2-1/2 games ahead of Milwaukee for eighth place in the Eastern Conference with 16 games to go in the regular season.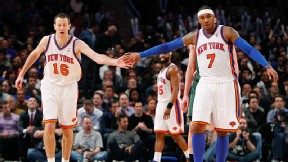 Debby Wong/US Presswire
Melo's 28 points lifted the Knicks on a night the team was without Amare and J-Lin.Simply put, it's crunch time for Carmelo.
"It's time to step my game up in all aspects," he said.
Anthony stepped up sufficiently for the Knicks on Monday, getting inside for easy baskets and trips to the free-throw line at pivotal turns in the game.
In the third quarter, (before tweaking his groin) Anthony had 14 points -- 10 of which came from the line -- as New York built a four-point lead going into the fourth quarter. Half of his 20 shots were in the paint.
"He reached down tonight and did what he had to do to get the job done," Mike Woodson said. "To me, that's big."
Problem is, the Knicks hadn't gotten many "big'" performances from Anthony of late.
Entering play Monday, Anthony was shooting a career-low 39.9 percent from the field and averaging just 20 points per game, down from the 26 points per game he scored in 27 regular season games in New York last season.
His 28-point night Monday was his best in nearly three weeks (he had 27 against San Antonio on March 7). He bristled when a reporter suggested that he was in a slump.
"I've been in situations where I've missed shots for multiple games and it comes right back," he said. "It happens when you shoot the basketball."
The Knicks, of course, haven't needed much from Anthony over the past 12 days. They are 7-1 under since Woodson took over as interim head coach. Anthony had averaged just 14 points per game in his first seven games under Woodson.
He knows that number has to increase if Stoudemire's out for an extended period of time.
"I've just got to step my game up," Anthony said, adding, "I love moments like this."