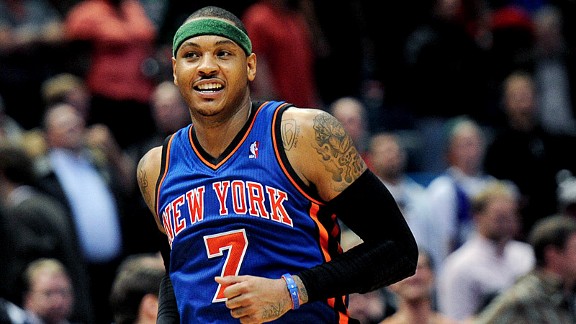 Benny Sieu/US Presswire
Do you believe in Carmelo Anthony -- or do you want him on the next train outta town?Every weekday throughout the season, ESPNNewYork.com will tackle a burning question about the Knicks in our "Opening Tip" segment.
Today's Burning Question: With the Knicks seemingly relying on Carmelo Anthony to carry the offense the rest of the way, how far do you think he can take the team?
Carmelo Anthony seems to be one of those players that Knicks fans either love or hate. I see it on Twitter and in conversations with die-hard fans all the time: you either worship him or want him out of town.
And it's been that way since the Knicks orchestrated a three-team blockbuster to bring Anthony to New York in Feb. 2010.
The Melo Debate -- Are the Knicks better with him? Were they better off without him? -- never ends.
Earlier this season, many pointed to the team's sub-.500 record with Anthony as evidence that the trade to bring him here was a mistake. After all, Denver was winning with the guys the Knicks got rid of in exchange for Anthony.
Then there's the argument that he can't co-exist with Amare Stoudemire (if you trust the stats, that one has plenty of merit, no matter how you feel about Anthony).
Making matters worse for Anthony (and his supporters), the Knicks thrived with Jeremy Lin running the show in mid-February while Anthony sat with a groin injury.
New York then went 2-8 after Anthony returned, losing six straight. It all came to a head on March 14 when Mike D'Antoni and the Knicks "mutually agreed" that the coach would step down.
At that point, those critical of Anthony were out in full force, labeling him a coach killer and the latest example of a "me-first" NBA star.
Now, things have changed a bit. With Stoudemire and Lin out, the Knicks have relied heavily on Anthony to carry the load. And he's responded, averaging 30 points on 50 percent shooting in the past nine games. Mike Woodson's getting the ball to Anthony in isolation and in the post, right where he likes it. And it seems to be working. Anthony had 32 points and 10 rebounds in the Knicks' crucial win in Milwaukee on Wednesday night.
Look for a similar performance from Anthony on Friday against Washington and in the foreseeable future.
With Stoudemire's return uncertain and Lin seemingly out for the season, it looks like it will be Melo-or-bust for the Knicks the rest of the way.
Which leads us back to our question:
Which side of the Anthony debate do you fall on? Are you rooting for him now? How far do you think he can carry the Knicks?
Let us know your thoughts in the comments section below.