The Knicks' overall 3-point percentage as a team this season wouldn't indicate they have the best long-range gunner in the game. Currently, the team's 33.1 percent accuracy from downtown is the eighth-worst in the NBA.
But Steve Novak has basically single-handedly put the Knicks in a tie for fifth place for most 3-pointers made (488). Novak is 125-for-268, and those makes equal 25.6 percent of the total team amount. Carmelo Anthony is second on the team with 65 (33.2 percent accuracy), and J.R. Smith proceeds him with 62 (34.8 percent accuracy).
As for Novak? Currently 46.6 percent -- the best in the league. In fact, he's within striking distance of the best 3-point shooting season ever (with a minimum of 250 3-pointers attempted). Former Knick Hubert Davis is third on the all-time list. Here's a breakdown:
Highest 3-Point Percentage In A Single Season All-Time*
47.8 (162-for-339) -- Dale Ellis (SuperSonics; 1988-89)
47.8 (177-for-370) -- Joe Johnson (Hawks; 2004-05)
47.6 (127-for-267) -- Hubert Davis (Knicks; 1995-96)
47.0 (179-for-381) -- Steve Nash (Suns; 2007-08)
47.0 (207-for440) -- Glen Rice (Hornets; 1996-97)
*Minimum of 250 3-point attempts
Since Novak's breakout game on February 6, when he was 5-for-8 from beyond the arc in a 99-88 win over the Jazz, he's averaged 2.9 makes out of 6.2 3-point attempts in only 21.4 minutes per game.
That means per 48 minutes, Novak is on place to finish with the most 3-pointers made in a single season ever (with a minimum of 100 made). Smith is currently first on the all-time list. Here's a breakdown:
Most 3-Pointers Per 48 Minutes In A Single Season*
5.3 -- J.R. Smith (Nuggets; 2007-08)
4.9 -- Eddie House (Celtics; 2008-09)
4.9 -- Steve Novak (Clippers; 2008-09)
4.9 -- J.R. Smith (Nuggets; 2006-07)
4.8 -- Dennis Scott (Magic; 1994-95)
*Minimum of 100 3-pointers made
What's most impressive about Novak is that he's money from all across the perimeter. The one area where he's slightly higher is from the right wing to the baseline corner. To illustrate that, here's his ESPN "Zone Chart" (entering Friday's play):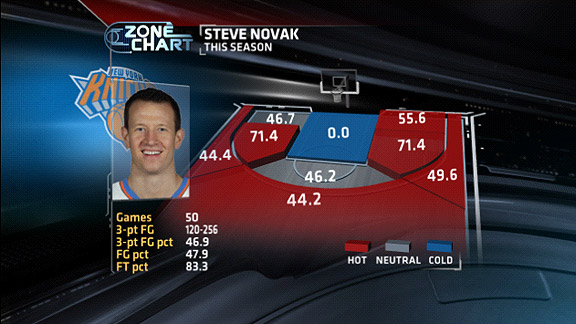 ESPN Stats & Info
Against the Cavaliers, he was 5-for-12 from 3-point territory. So on the season up until this point, he's 61-for-120 from the right side, 23-for-55 from the top of the key and 41-for-94 from the left side.
Whereas most players say the shortened season has posed challenges, interestingly Novak told ESPNNewYork.com recently that the condensed schedule has benefited him as a shooter.
"I think, to be honest, and it may seem funny, but the amount of games that we're playing I feel like helps," Novak said. "Because you never go that long of a stretch without getting up or down about a great night or a down night. In like two hours, it's kind of like so what? You've got to do it again tomorrow.
"It's a what-have-you-done-for-me lately kind of thing. It's just kind of nice to know that if you miss a couple or it doesn't go your way one night, you get to play right away. So I feel like it's kind of easier to keep that groove because mentally it's easy too."
Of course, Novak's accuracy has a lot to do with his preparation, which is basically the same every practice and game. After practices, he works his way around the perimeter several times with an assistant coach, getting extra shots in. Then, about an hour before tip-off, he practices different shooting routines -- some standstill, some off of screens, some running into his set-up and others from five feet behind the 3-point line.
Novak always looks balanced upon lift-off and release, which is a credit to his footwork, and during games he utilizes a timely pump fake to create space when the defender is closing in. In addition to his technique, Novak said his confidence is higher than it's ever been in his career.
Every day, Novak estimates that he puts up between 500 and 1,000 shots -- something he's been doing ever since he was a kid growing up in Wisconsin.
Novak didn't stop then and he hasn't stopped now.
You can follow Jared Zwerling on Twitter.