What's next for Lamar Odom?
There's no easy answer there.
The Mavs will attempt to trade Odom before June 29. Any team that has Odom on its roster by that date will be responsible for paying him the $2.4 million in guaranteed money he's owed next year.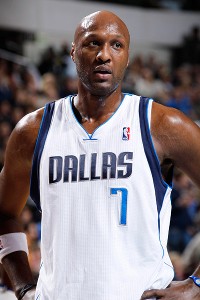 Glenn James/NBAE/Getty Images
Lamar Odom
If Dallas can't get rid of Odom in a trade, it will likely waive him and be responsible for paying Odom his guaranteed money. That's something Dallas would obviously rather avoid.
If the Mavericks are forced to waive Odom, he would become a free agent. In that scenario, the Queens native would likely be looking at a significant pay cut from the $8.2 he was scheduled to make this season.
Would he be interested in coming to New York at a discounted rate?
A source with knowledge of Odom's thinking says yes. The source says the Knicks would be "on the top of his list" if Odom became a free agent.
"Lamar is big on being comfortable," the source said. "And New York is somewhere he can be comfortable."
It makes sense that Odom would be open to a return to New York.
His versatility -- interior scoring and rebounding in particular -- would be of great value in the Knicks' second unit. He proved in Los Angeles that he can thrive off the bench in a supporting role on a team with stars in its starting five. Odom helped the Lakers win two titles in that role.
Of course, there's a risk involved with bringing Odom in -- even at the veteran's minimum or mini mid-level.
Odom had a rocky season in Dallas after being traded by the Lakers. The Mavs kept him on the inactive list for the final nine games of the regular season in an effort to sever ties while retaining the ability to trade him.
Though Odom's stint in Dallas was heavy on drama, it was light on production. He averaged career lows of 6.6 points and 4.1 rebounds in 20.5 minutes.
The source close to Odom says that he's eager to put the experience past him. He has started offseason workouts already, with eyes on an Olympic roster spot and with the motivation to prove that he's a better player than the one who struggled through last season.
"It definitely won't be the fiasco that it was last year," the Odom source said of the 13-year veteran's approach to 2012-13. "He wants to find a place where he can end his career, and New York is ideal. He's won championships in the past and he wants to win another. And to do it there would be great."
Do you think the Knicks should pursue Odom -- either in a trade or as a free agent? Or do you think they should stay away, based on what happened with him last year?
Share your thoughts in the comments section below.
You can follow Ian Begley on Twitter.