The pivotal arbitration showdown between the NBA Players Association and the NBA over the Bird Rights of waived players is expected to take place in mid-June, according to a source with knowledge of the negotiations.
The result of that hearing will be of utmost importance for the Knicks.
At issue is whether a player obtained off waivers can retain his Bird Rights with the team that acquired him. The Knicks picked up both Jeremy Lin and Steve Novak off of waivers.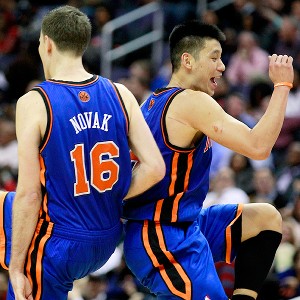 AP Photo/Haraz N. Ghanbari
Steve Novak and Jeremy Lin were crucial to the Knicks' midseason resurgence.
Bird Rights are exceptions that allow teams to exceed the cap to re-sign their own players.
Teams can sign a player using the Bird exception if the player was with them for some or all of each of the prior three consecutive seasons. The Early Bird rights apply to players who played for the team for some or all of each of the prior two consecutive seasons.
The union is arguing that waived players should be able to retain their Bird Rights with their new team, just as traded players do.
The league says a player's clock should be reset once he is acquired off of waivers.
If the arbitrator rules in favor of the union, it will allow the Knicks to exceed the salary cap to re-sign both Lin and Novak, because they would be eligible for "Early Bird" rights.
If the arbitrator rules in favor of the league, it becomes more difficult for the Knicks to retain both Lin and Novak.
In this scenario, the Knicks will be able to match any offer made the Lin, but they will need to use their mid-level exception to do so.
Using the mid-level on Lin would hamper the Knicks' efforts to re-sign other players or lure other free-agents.
If they use the mid-level on Lin, that would leave the bi-annual mid-level exception or the veteran's minimum as the most likely offers for Novak.
You can follow Ian Begley on Twitter.