Marquette guard Darius Johnson-Odom was the most impressive perimeter defender at the Brooklyn Nets' draft combine last Saturday. He was the loudest one, calling out pick-and-roll screens and back picks, and aggressively getting up on guys and causing turnovers. His play made the GMs and scouts in attendance look at each other in mutual agreement, and then make a note.
He brought that same intensity to his individual workout with the Knicks, who have the 48th pick in the draft and lost defensive ace Iman Shumpert to a knee injury during the playoffs.
While the 6-foot-5 Shumpert can guard multiple positions, Johnson-Odom's defense could come in handy mostly against point guards -- which is still a plus because of the widespread talent at that position in the NBA. As a senior, he held opposing players to about 30 percent shooting in isolation plays, according to Synergy Sports.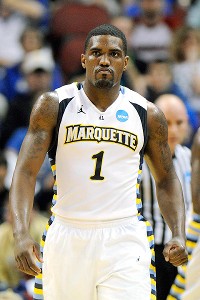 Jamie Rhodes/US Presswire
Darius Johnson-Odom
After taking part in 1-on-1 and 3-on-3 drills at the Knicks' training facility with several other draft prospects -- including Scott Machado and Miles Plumlee -- Johnson-Odom sat down with ESPNNewYork.com.
Q: What were you trying to prove out there today?
A: I know what the Knicks need, so I came in with a defensive mindset. With Iman being out, with Baron [Davis] being out, I know that they need somebody who can step up and play D. Everybody knows I can score the ball; that's the least of my worries. But I want to be a player that impacts the team on defense. That's going to be my main focus throughout these workouts. If that means me playing seven minutes in the league and guarding the best player, that's what I'm willing to do.
Q: What's your defensive approach on the court?
A: Always talking, communicating. ... I'm very physical, try to be aggressive on that end -- just try to make it hard on the offensive player. I use my athletic ability. I have a pretty decent wingspan, so I just try to use it as much as possible.
Q: Are there any defensive players in the NBA who you look up to?
A: Young players. Iman was one player that I thought changed the game for the Knicks with his height, his wingspan, his strength, his speed. He was just an incredible defender. He had a huge impact on the team. I haven't gotten to meet him, but hopefully soon.
Q: Anything on the offensive side you want to work on?
A: When I was talking to Allan Houston, a great guy, he said I can play in this league, but he wants me to work on not over-dribbling. I'm going to take that into consideration because he was a great player.
Q: Are you close with former Golden Eagles Steve Novak and Dwyane Wade?
A: I just saw Novak and we were out there kicking it around, so me and Novak are real close. I talk to Dwyane Wade every once in a while. Of course, I'm close with [Bulls forward] Jimmy Butler. We're a big family, man. We usually go back to school for camps and just hang out with each other, because we know we can get in the gym whenever we want. I'm glad to be an alumni of Marquette.
Q: As you watch the NBA playoffs, the highest level of basketball, what do you take away that may help your game?
A: There are a lot of young players in the playoffs, a lot of athletic players, so you see a lot of transition offense. You can't take bad shots; you've got to be patient on offense, take care of the ball. Defense, you're not getting any more easy shots, I'll tell you that. It's not the regular season any more. A lot of guys are making it tough on guys to even catch the ball. You can see how physical the play is, see how much guys really want it, getting into each other's faces. That's the type of player I like. I've been in battles, so I know what it feels to be playing in that type of moment.
Q: What do you enjoy off the court?
A: At the pro level, you don't really hang with your teammates as much, but I love hanging with my teammates. I'm always in the gym trying to work on my game. Movies. I'm a silly guy. I might take it very serious on the court, but off the court, man, I'm probably one of the most talkative, silliest guys you're going to meet. I'm always trying to make people laugh, so they can just try to enjoy their day. That's the type of person I am.
You can follow Jared Zwerling on Twitter.