All-Star point guard Steve Nash, an unrestricted free agent, said Wednesday that he would weigh an offer from the New York Knicks, should they choose to make one.
"The Knicks are a great franchise and I live in New York City (each summer), so I'd definitely consider them if they were interested," the Phoenix Suns' mainstay said at a promotional appearance in Manhattan.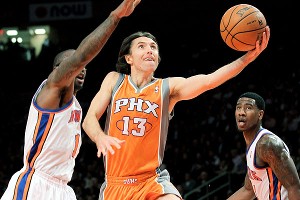 Anthony Gruppuso/US Presswire
Nash is an eight-time All-Star and two-time MVP.
The Knicks, however, will be hampered in free agency. Because they likely will lose out in early-bird rights arbitration, which hasn't been decided yet, they'll only have veterans' minimum contracts to offer free agents. And that's if Jeremy Lin and Steve Novak don't re-sign, which is highly doubtful.
Also at Wednesday's event was Knicks legend and MSG Network analyst Walt Frazier, who told Nash, "We need you to come to New York!"
Nash said he was "flattered" to hear that from Frazier, who believes the Knicks need to land a veteran point guard. Nash is the front-runner in that class of free agents -- which also includes Andre Miller, Jason Kidd and Raymond Felton -- and that means he'll likely fetch a mid-level-like, multiyear deal.
Nash, who's 38, said he doesn't feel old and wants to play three more years. He won't make a decision about his destination until after free agency begins July 1.
"I want to wait and see what's actually on the table," he said. "I'm open and excited. I'm looking at every possibility right now. It sounds like there are a number of teams that are interested."
Some insiders believe Nash will first consider the Mavericks, his former team, and the Nets, if Deron Williams doesn't re-sign. The Heat are also a possibility.
If Nash came to New York, he would be reunited with Amare Stoudemire. They dominated in the pick-and-roll to lead the Suns to four postseason appearances, including trips to the Western Conference finals in 2005 and 2010.
You can follow Jared Zwerling on Twitter.