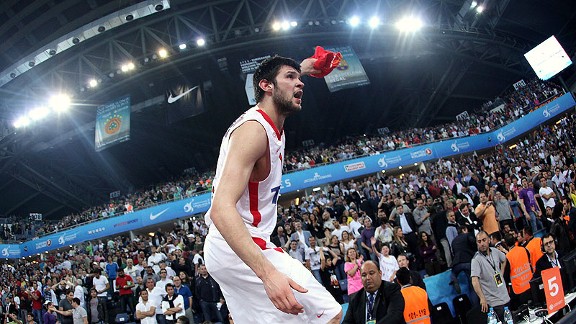 Ulf Duda/EB via Getty Images
Glen Grunwald saw Kostas Papanikolaou as the Knicks' best bet at 48.Kim English may have been the closest player to making some impact on the New York Knicks next season, based on his 45.9 percent 3-point shooting during his senior season at Missouri. But the Detroit Pistons selected him just four picks before the Knicks' pick at 44.
Once the Knicks were on the clock, GM Glen Grunwald didn't believe any of the remaining draft prospects could cut next season's rotation. And that's one of the main reasons he went with Greek forward Kostas Papanikolaou, whom Grunwald believes has a chance to play in the 2013-14 season if the Knicks buy out his contract with Olympiacos for $1 million.
"Given where we are with our team, it was unlikely anyone at 48 could step in and contribute," Grunwald said. "We felt this player can grow overseas. … He plays hard. He's a good athlete. He needs to improve his shooting. We've watched him over the course of the year and he's improved dramatically over this year. We see him as a guy who's going to work and improve.''
Grunwald said he and the front office staff will evaluate Papanikolaou again next season and decide if and when to bring him over.
"We think he's a good player and think he's going to get better. It's an investment in our future," he said. "He got better over the season and wound up being the MVP of the Euroleague Final Four. We ranked him pretty high."
The 6-foot-8, 225-pound Papanikolaou is currently a member of the Greek National Team and the 2012 Euroleague champion Olympiacos. A four-year professional, the Trikala native scored a career-high 18 points against Moscow in the Euroleague championship game on May 13 and was named MVP.
You can follow Jared Zwerling on Twitter.