A few days after running the point for the Argentina national team against Team USA on Sunday, new Knick Pablo Prigioni spoke with ESPNNewYork.com. It was Prigioni's first interview with an American media outlet.
Here's the conversation, covering the Olympics, Prigioni's international basketball experiences, the Knicks and his interests off the court:
Q: How has your experience been so far playing with the Argentina national team?
Prigioni: It is very nice. We live a lot of good moments. It's a wonderful team and we enjoy playing together.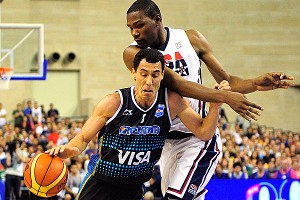 AP Photo/Manu Fernandez
Pablo Prigioni and Argentina lost 86-80 to Kevin Durant and the United States on Sunday.
Q: You kept it very close with the Americans in Barcelona. How do you think you guys were able to do that, and what do you expect in the next potential matchup?
Prigioni: After the bad beginning, we found our play. I think we gave the Americans problems; they played nervous. This matchup helped us to know how we need to play in London.
Q: What are some of your standout moments during your many years playing international basketball?
Prigioni: To win a championship is always the best moment. I won a lot of championships in the Spanish League, in Europe and also with the national team, like the bronze medal in Beijing. I always remember that.
Q: You've been able to stay pretty healthy throughout your career, avoiding major injuries. What do you credit for being in great shape, even at 35 years old?
Prigioni: There's something of good luck because I never had a serious injury. I try to eat healthy and sleep in the free moments, so then I can train hard. I try to be always in my best form.
Q: You said you like to eat healthy. What are some of your favorite foods? Some Argentinian dishes?
Prigioni: No, just normal food. Chicken, fish, meat, salad. I stopped eating pasta and bread. Also, I don't drink milk.
Q: Why did you feel it was the right time to play in the NBA this season, and not continue playing overseas?
Prigioni: After many years in Europe, the only way to go up in my career was the NBA. It was very important the interest that the New York Knicks showed me. They chose me and they were sure that I can contribute with the team.
Q: Were you close to joining the NBA in the past? If so, what happened?
Prigioni: Three years ago, I had a chance to play in the NBA. But I finally got to play with Real Madrid because it was a really good team.
Q: Your fellow Argentinian teammates Manu Ginobili, Luis Scola, Carlos Delfino and Andres Nocioni have played well in the NBA. Did their success motivate you to give the NBA a shot?
Prigioni: I received regards from the team and they motivated me a lot. Of course, my teammates that know the NBA tell me all about the league.
Q: Is there a unique Argentinian style of basketball you think that's translated well to the NBA?
Prigioni: There is an Argentinian style of basketball. The national team has played together for a lot of years. The Argentinian players have special character to compete, and it can move to the NBA -- more than our style, but also how we play in NBA sets.
Q: Did you get any other offers to play in the NBA this season besides the Knicks one?
Prigioni: Yes, there was one other team, but my first option was always New York. I prefer not to say the other team.
Q: Why did you think the Knicks presented the best opportunity for you?
Prigioni: Because I can help the team. They demonstrated that trust in me.
Q: How do you think you can help the Knicks, and what do you think it will be like to play with Raymond Felton and Jason Kidd?
Prigioni: I'll try to help the team with my style and listening to the coach indications. It's a pleasure to be on the same team with two players like Raymond Felton and Jason Kidd. It's going to be an opportunity to continue learning.
Q: Your agent, George Bass, said that you remind him a bit of Kidd, being that you're a pass-first point guard. Do you think you play like him?
Prigioni: Yes, I think the same. I think the most important thing is to play for the team, for my teammates. Of course, Jason Kidd was a mirror in my career, and one of my favorite NBA players.
Q: Were you excited about potentially playing with Jeremy Lin, and are you surprised he's not a Knick?
Prigioni: The most important is to be part of the team. It was a surprise that Jeremy is not a Knick. Anyhow, the team now has three good point guards in that position.
Q: By the way, have you ever been to New York City before?
Prigioni: I was with my wife, Raquel, just a couple days ago, so I know a lot of places now in the city. But I will work hard. For sure, she will have more time than me to visit the city.
Q: What do you enjoy off the court when you're not playing basketball? Do you have any fun hobbies?
Prigioni: I enjoy spending time with my wife and two children, Alessandra, 6, and Nicolas, 3. Also, with my friends. My favorite hobbies are the antiques -- old cars and muscle cars. I have one Chevrolet truck from 1953, a Ford Mustang convertible from 1965, and three scooters from 1957, 1966 and 1979. Plus, in my home, I have small antique things like (an old typewriter) and jukebox.
You can follow Jared Zwerling on Twitter.