After earning $4.7 million last season with the Bulls, Ronnie Brewer turned down mini-mid-level, multiyear offers to sign a one-year contract, reportedly worth $1.14 million, with the Knicks. But he says it was the best fit for him.
Below is Brewer's conversation with ESPNNewYork.com, where he provides insights into joining the Knicks and how he'll help, his potential role in the orange and blue, how he's been training in Arkansas and what his interests are off the court.
Here's Part 1 on Brewer joining the Knicks and how he'll help: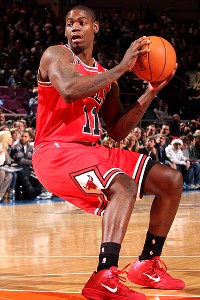 Ray Amati/NBAE/Getty Images
Ronnie Brewer averaged 6.9 points in 24.8 minutes per game last season for Chicago.
Q: How does it feel to be a Knick?
Brewer: It feels great, being wanted by a prestigious organization. It meant a lot to me, it meant a lot to my family, to be able to play at Madison Square Garden, the mecca of basketball. I was really excited about the opportunity. I feel like we have a really good team, solid veterans and a great coaching staff.
Q: Do you have any favorite places in the city?
Brewer: Honestly, man, every time I've come to New York, I've been like a true tourist, just going to the sights. When I was with the Bulls, we were there on Christmas [in 2010]; that was pretty hectic. Sometimes, you come in on a back-to-back or what-not. I'm actually looking forward to trying some of the restaurants that New York has to offer. I think my mom -- and my family -- is more excited about the shopping up there. I'm more focused on coming up there and having an immediate impact with the Knicks. Everything else that comes along with it, the city, I'd welcome it with open arms.
Q: So what number are you going to wear?
Brewer: I think I'm going to try to get No. 11. I wore that in Chicago. I would've worn 10 -- that's the number my dad [Ron Brewer] wore that I wore growing up and I wore it in Arkansas -- but it was retired [Bob Love]. And in Utah, when I got there as a rookie, somebody was wearing 10, [Gordan Giricek], so I had nine. And in New York, 10 is retired, too [Walt Frazier]. I'm going to stick with 11. In Utah, I would've gotten 11, but when I was there, one of my close friends, Dee Brown, wore 11. He had it in his whole entire life. I didn't want to be the guy that took away a number that he had in his whole entire life.
Q: Are we going to see you throw it down like the original Dee Brown, with the right arm across the eyes?
Brewer: [laughs] Nah, but I'm definitely going to try to get a lot dunks this year. If I'm open enough, I can throw that in the mix [laughs].
Q: When and how did the Knicks first creep into your free-agency picture?
Brewer: When Chicago didn't pick up my [team] option [of $4.37 million in early July], it was kind of like a speed-dating thing. I looked at a lot of different teams. I heard their pitching approach and at the end of the day, to me, even though there were teams that offered me more money and more years, I just felt like the best fit for me as a player and what I do with my talents, and the style of play, New York was the perfect fit for me. With the star power -- with Carmelo, Amare, Tyson and Coach Woodson -- I think I fit in perfectly.
We have solid pass-first, shoot-second point guards, looking to set up their teammates. If we can get easy stops and get the lead early in transition, and play up-tempo, you've got to have kind of a glue guy who can play alongside Carmelo and Amare. They're going to have a lot of isolations, and they're going to need to have guys who can move without the basketball, get to the open spots and knock down shots or get to the basket and make plays. So to me, that was the best fit for me.
Q: You mentioned Mike Woodson, and you obviously played for another defensive-minded coach in Tom Thibodeau last season. Was the coaching another factor in your decision to come to New York, representing almost a seamless transition for you?
Brewer: To me, it makes the transition so much easier. Learning so much from Coach Thibs in my two years in Chicago, his philosophies and his mentalities allowed me to be a better defender and a better professional. Then, going to the Knicks, I'm looking forward to guarding players on the perimeter, because Tyson's really stepped up and did his part of bringing defense back to a good team. With Coach Woodson being such a defensive-minded coach, to me, it makes the game a lot easier. I'm looking forward to playing for him and learning different techniques to help my game out.
Q: When Iman Shumpert returns, you guys will have another solid layer of perimeter defense. Have you already thought about playing alongside Shump?
Brewer: For sure. And if you think about it, there are so many lineups you can throw up with the guys on our team. If you want to play big, you can have a big group of guards in. If you want to play small ball, you can put Iman at the four and Amare at the five, or Tyson at the five and Shump in and me in to have a perimeter defense, and to have athleticism on the wings. So there are a lot of things that I think Coach Woodson can really throw at a lot of different teams and be successful doing it.
Stay tuned for Part 2, where Brewer talks about his potential role in the orange and blue, how he's been training in Arkansas and what his interests are off the court.
You can follow Jared Zwerling on Twitter.