Here's Part 2 of Ronnie Brewer's conversation with ESPNNewYork.com, where he talks about his potential role in the orange and blue, his training routine in Arkansas and his interests off the court:
Q: With the uncertainty in Chicago, based on your team option and Derrick Rose's long-term injury, were the Knicks more compelling because there was an opportunity to start at shooting guard for a contending team?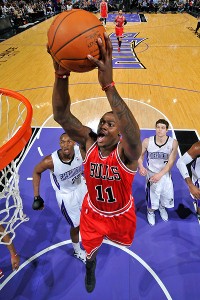 Rocky Widner/NBAE/Getty Images
Ronnie Brewer
Brewer: I think when I looked at the Knicks, there wasn't necessarily a position where I was like, "Hey, this is where I can start." I felt like I could have a significant role on this team. I think I can play a lot with the things I do. I think I complemented a lot of players on the team and the system complemented me. Chicago went their own direction. I had a great experience there. I was able to play for a phenomenal coach in a phenomenal city. The fans were great, but I just felt they were going in a different direction that I didn't want to go in. I think it was mutual that we parted ways.
Q: You worked well off screens in Chicago, knocking down the midrange jumpshot. Do you envision doing that in New York, as well as extending your range beyond the arc with Carmelo Anthony, Amare Stoudemire and Raymond Felton mostly penetrating?
Brewer: In the offseason, I'm always working to get better, so for sure I want to extend my range so I can be a better 3-point shooter, especially in the corners. I feel like I can be a guy who comes off pick-and-rolls and makes the decision to either kick it to a perimeter player or be able to drop it down to Tyson (Chandler) or Amare, or get to the basket with my athleticism and finish at the rim. I feel like coming off down screens and catching and shooting, I can play off that as well.
I'm always continuing to add things to my game to make me a better player, because Carmelo is going to get a lot of attention. To me, he's one of the best iso players in the game, and he's going to get double-teamed and triple-teamed a lot of times. He's an unselfish player when he makes the right play and makes the extra pass.
Q: I know you're in Arkansas right now training. What's your routine like?
Brewer: I work out at the University of Arkansas. They welcome me with open arms. I come and work with the strength coach, David Deets, Monday through Friday. Then I come back and do agility work with him and I do court work with some guys who I went to school with and played at Arkansas. I've been keeping in shape and extending my game.
The pickup games on campus are pretty good. The current (Arkansas) team usually participates in every pickup game. Joe Johnson has been down and sometimes Jannero Pargo comes down to play. Also, Brandon Dean, Teddy Gipson, Courtney Fortson, who just signed back with the Rockets, and Sonny Weems comes back and plays. They're usually really good runs.
Q: What do you enjoy doing off the court? Any fun hobbies?
Brewer: Since I've been back in Arkansas, I've been doing a lot with my foundation, trying to give back to the community. We're actually about to have a back-to-school giveaway this Friday for surprise backpacks and stuff like that. And I was raising money for the Boys & Girls Clubs, trying to build a gymnasium down here.
If I'm not doing that stuff with my charity and not playing basketball, I try to relax a little bit and try to fish with me and my family and go see movies. Nothing too exciting, but when I'm back home, I'm usually just hanging out with my friends because it's not that big of a town. I basically know everybody and a lot of my friends still live here, so I hang out with them a lot.
Q: I've got to ask you about fishing. Where do you go and what do you catch?
Brewer: It depends. Sometimes we go fish for catfish. A lot of times, just trout and crappie. Every summer, I take two fishing trips where I take my parents and some of my friends and we go to Bull Shoals or White River (in Arkansas) and we fish for rainbow trout. We usually do lakes and ponds, not so much rivers. The rivers are so far away from where I actually stay.
For Part 1, where Brewer talks about joining the Knicks and more about how he'll help the team, click here.
You can follow Jared Zwerling on Twitter.