Starting with Team USA's first practice in London and going through the medal rounds, NBA Defensive Player of the Year Tyson Chandler will give fans insights into his overseas experiences a couple of times per week through his exclusive Olympic diary with ESPNNewYork.com.
Here's Tyson's second entry:
GAME ADJUSTMENTS
Hey, everyone, we're now 2-0 after beating France and Tunisia, and I think we're getting better game by game. I think throughout this entire process, different guys are going to step up at different times. That's the beauty of being on an Olympic team. We've got so much talent, so I think that if we try to bottle all that stuff down with offensive sets, it takes away from our ability to create. We do have sets that we run, but for the most part we're out there creating.
I think we've been doing a great job of adjusting and coach Mike Krzyzewski is doing an excellent job with preparing us. He's very good at keeping you in the moment and making sure that you're ready and prepared -- but at the same time, that you're loose enough to know who you are as a basketball player. Coach K actually recruited me a little bit out of Dominguez High School in California back in 2001. I'm sure I was on his radar, but he knew that I was going to the NBA.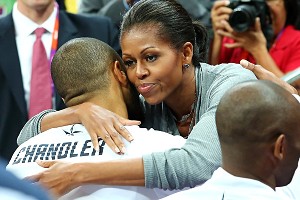 Christian Petersen/Getty Images
Tyson Chandler got a hug from First Lady Michelle Obama after Team USA's victory over France.
For those of you who are worried about my left-hand injury from the Tunisia game, it's feeling better. I dislocated my finger right before Team USA training camp in Las Vegas, and it swelled up on me. I was trying to get in shape and I was playing pickup, and I dislocated it. It is what it is, but I'll be fine.
OLYMPIC VIBE
I think the moment that I walked through the tunnel during the opening ceremonies, and came out and heard the USA chants, was the moment I realized I was at the Olympics. Just taking a glance throughout the Olympic Stadium and seeing the rings and walking around the track with the other countries and athletes, and just seeing the different colors and the different cultures, it was just one amazing experience.
I played in the 2010 FIBA World Championship in Istanbul, Turkey, but I don't know if anything compares to the Olympics, being able to witness other athletes and just the vibe around the city, seeing the rings everywhere, seeing different flags, watching people accomplish their dreams. That has just been incredible.
It's been crazy everywhere my teammates and I go. Even when we went to the Olympic Village with some of the other athletes, it was crazy. It's a big reason why we can't stay in the village, because everybody wants to meet us, sign autographs and take pictures with us. I would rather be able to just relax and walk around. It's also crazy when we play an opposing team because they all want our autograph afterward, or they want to take pictures with us or sign their shoes.
We're actually staying at a hotel. One day, we went to the village to see some of the other athletes and I went into the track dorm, and was talking to a couple of the track athletes. Lolo Jones was like, "You should lay on the bed. Look at how small this bed is. There's no way you could fit in it." I was with Kevin Love, Andre Iguodala and the rookie, Anthony Davis. I told Kevin to take a picture of me on the bed to see how short it was, and I put it on Twitter.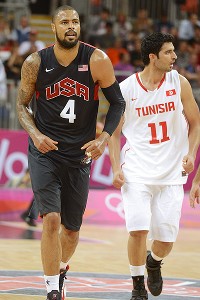 AP Photos/Rex Features
Tyson Chandler and the U.S. improved to 2-0 with a blowout victory over Tunisia.
I think the most humbling thing was when an athlete from one of the other teams said that his greatest honor was to be on the floor with us. When you hear that kind of stuff, you have that much more respect for the game. You really appreciate the opportunity that you have and you understand the responsibility that you have to represent yourself, as well as your country, because a lot of people are watching. That was one of the biggest moments I had. For him to say that, it meant a lot.
DAY OFF
Wednesday was our first day off and it was a great experience. People in London have been very welcoming. I was really able to get out and venture into the city, and I was in the east side of London. I wanted to go through the streets of the city and take some pictures of some of the graffiti out here and see some art, as well as shop at some boutiques and see the culture a little bit.
In my first diary entry, I didn't know how to describe the fashion because I just got to London, but I will say that people pay attention to their fashion out here and are very detailed with their look. I do appreciate that. I went to a shop called Layered and I went to another one called Hostem in the east side of London.
I also had my first tube experience, which was crazy. The tubes are the subway system out here, and they're very small. It's really a tube. I could not stand up straight in it. It's pretty much a rugby match as soon as the doors open on each stop. It's like survival of the fittest; everybody trying to jump in and get in and get a spot. Everybody's holding their space and their ground. It's like a sumo-wrestler match.
It was crazy, but I actually enjoyed it because it's what they're accustomed to every day. People who were in line to get tickets and stuff like that were coming up to me for autographs. It was such a madhouse. After a couple of stops, I was able to get a seat and some people were talking to me.
Stay tuned for my next entry! In the meantime, you can follow me on Twitter @TysonChandler and check out my website TysonChandler.com.
For Tyson's first diary entry, where he talks about arriving in London, adjusting to the Olympics and bonding with his teammates, click here.
You can follow Jared Zwerling on Twitter.