Amare Stoudemire's "STAT" tattoo on his right arm is also the theme of his inaugural children's book series.
"STAT: Standing Tall and Talented," which released its first book, "Home Court," on Wednesday, is about the many obstacles Stoudemire overcame in his life to become an NBA All-Star.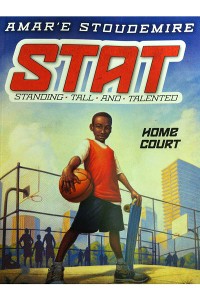 Courtesy of Scholastic
"Home Court" centers around an 11-year-old Stoudemire who is very active. In addition to going to school, he plays sports, skateboards in the park and helps out with his dad's landscaping business. When an older group of boys start bullying his friends on the basketball court, Stoudemire uses his athletic ability and intelligence to help them out. It's at that point he realizes basketball is his true passion.
The children's series is aimed at middle-schoolers and will also feature a book in October and January.
"I am excited to create my book series with Scholastic," Stoudemire said in a statement. "I decided to write for children because although I am an avid reader now, I wish I had read more as a child. I hope that together with Scholastic, we can creatively inspire a new generation to read."
Launching a children's book series is just another step Stoudemire has taken to build educational platforms for kids. He's gotten involved with New York's Department of Youth and Community Development, Beacon school-based community centers, AAU programs, youth basketball tournaments and projects abroad. He was named a goodwill ambassador to the country of Sierra Leone and he's currently developing a community center in the African nation of Mali.
You can follow Jared Zwerling on Twitter.