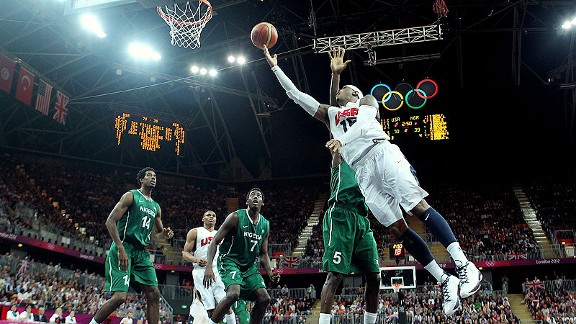 Christian Petersen/Getty Images
How hot is Carmelo Anthony right now?
His shots aren't just going in, they're barely touching the rim.
Anthony set a U.S. men's Olympic team record with 37 points on Thursday against Nigeria.
And he only needed 14 minutes to do so.
The Knicks forward hit 13 of 16 shots in the United States' record-setting 156-73 win in London.
And in a development that is sure to make some Knicks fans smile, Anthony snapped Stephon Marbury's single-game U.S. Olympic scoring mark of 31, set in the 2004 Athens games.
Marbury's wasn't the only record to fall on Thursday.
The United States' 156 points against Nigeria were an Olympic team scoring record, and its 29 3-pointers made also established a new mark.
To put the 29 3s in perspective, Nigeria finished the night with 28 total field goals.
For the second straight game, Anthony led the way for the United States' explosive offense.
In Tuesday's win over Tunisia, Anthony had 16 points on 6-for-6 shooting in 12 minutes.
In total, he's scored 53 points in his last 26 minutes.
"It's unexplainable man, it's unexplainable, that's all I can say about it," he told Craig Sager on the NBC Sports broadcast after the game.
At one point after knocking down a 3 in the second half, Anthony threw up his hands and shrugged his shoulders as if to say, 'I can't miss.'
It's a gesture Knicks fans would surely love to see in the Garden this winter.
For more on Melo and Team USA's rout from ESPN Stats & Info, click here.
EASY NIGHT FOR TYSON: With the U.S. up big early, center Tyson Chandler had a light night against Nigeria. The Knicks center had five rebounds and two points in 14 minutes.
He played with no ill effects of the minor hand ailment he suffered Tuesday against Tunisia.
PRIGIONI OUT AGAINST TUNISIA: Knicks point guard Pablo Prigioni, 35, sat out of Argentina's win over Tunisia on Thursday due to kidney stones, according to reports out of London. The New York Daily News reported that Prigioni is expected to be available for the rest of the Olympics.
You can follow follow Ian Begley on Twitter.